Decoupage Gift Box
Decorate a container to make a cute gift box. Decoupage with tissue is a great hands on activity for young children. Layers of tissue can be easily overlapped and doesn't need to be perfectly laid. In fact variation gives each project a unique appearance and neat textures. Ages 3+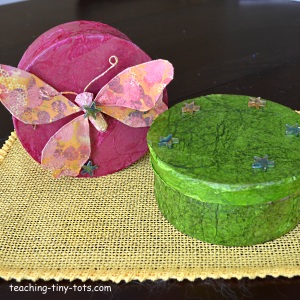 DESCRIPTION
Cute box that can be used as a gift box, display piece or as a trinket box.
MATERIALS
Cardboard box from craft stores like Hobby Lobby or use empty shoe boxes, Quaker Oats containers, etc.
Mod Podge Matte Finish
is best but you can use Elmer's Glue and water mixture in approximately a 3:1 (glue/water) ratio
Tissue Paper
Decorative items like rhinestones, silk flowers, lightweight items like our butterfly. The stars are transparent glass often used for mosaics.
Foam Brush
like these work well. You can find them at any craft store and are inexpensive. Buy a couple because they can break after a few uses.
Strong tacky glue for decorations.
OTHER MATERIALS
Small bowl or container to put ModPodge in
Container to rinse brushes with water after project is finished. You do not need to rinse while doing the project.
Newspaper to work on.
STEPS
Cover working surface with newspaper and fill a small bowl with Mod Podge.
Cut or tear pieces of tissue. If I'm doing it for a class I cut strips using a
Fill bowl with ModPodge
Brush some Mod Podge in a small area on your box.
Place a few pieces of tissue and then brush over the tissue with more Mod Podge
Let dry
Glue on small decorations. Let dry.
TIPS AND SUGGESTIONS
Show your child how to overlap pieces. If they want to build it up and layer more, it gives it texture.
Other Decoupage Crafts You Might Like