Presenting Simple Fingerplays and Songs to Young Children
by Deborah J. Stewart
Presenting fingerplays and songs to young children may appear to be a simple task but to effectively make fingerplays and songs a valuable learning tool, it takes thought and planning. To effectively present songs and fingerplays, consider using the S-I-M-P-L-E method.

Say and sing
Words to simple songs and fingerplays can be both spoken and sang. Try saying (or chanting) the words to a simple song. Emphasize the rhythm and rhyme of the sounds. After you chant the words then sing the familiar tune.

Say it then sing it…


The itsy bitsy spider went up the water spout
Down came the rain and washed the spider out
Out came the sun and dried up all the rain
Then the itsy bitsy spider went up the spout again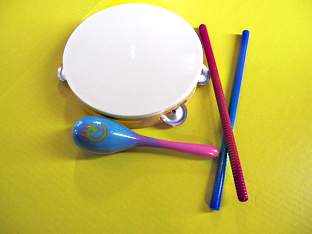 Include Instruments
Young children will enjoy participating in simple songs and fingerplays when a variety of familiar and unique instruments are included as they sing the song or chant the words. Instruments (or tools) may include shakers, tambourines, bells, rhythm sticks, scarves, ribbon sticks, and puppets.

Try using a rain stick to make the sound of rain
as the children sing the itsy bitsy spider!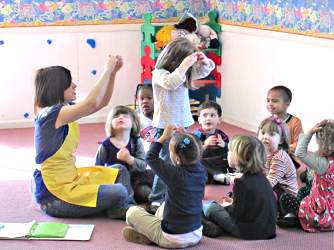 Movement and Motion
Young children need to participate physically in the process of singing and chanting fingerplays. This helps them to remember the words, to visualize the words, and to stay engaged in the process.

Have the children use their fingers or even
their whole body to create a visual image
of the spider climbing up and down the spout.
Practice and Prepare
Simple songs and fingerplays do take an investment of your time and energy. Practice will help you feel more confident and capable. Preparation will help you think through all the possible ways you can adapt the song to the needs of your students for maximum learning opportunities.

Practice chanting and singing the Itsy Bitsy Spider
on your own time. Prepare activities that extend the song
in other areas of your classroom such as making
an paper plate spider and searching for spiders outdoors.
Listen and Learn
Have your children just listen to you as you sing or chant the words to a simple song or fingerplay. Encourage the children to listen for the words that rhyme then stop and identify those words. Invite the children to listen to the rhythm then ask them to tap or clap the rhythm with you.

Have the children do the motions to the Itsy Bitsy Spider
without any verbal sound. Use only the sound of tapping or clapping.
Excite and Enthuse
Children will learn to love music and fingerplays when you lead them with excitement and enthusiasm. You are the greatest influence on how children feel about singing. To build their confidence, you need to sing every song like you love it. Make it fun and exciting to sing!

Add a little excitement to the Itsy Bitsy Spider by
changing the words to the big fat spider or the teeny tiny spider.
About Deborah J. Stewart, MAEd
Deborah has a master's degree in early childhood education and has been working in the field of early childhood education for over 20 years. Deborah currently spends her time writing children's songs, presenting workshops, training teachers, and writing articles about excellence in early childhood education.
You can learn more about Deborah by visiting her website and blog at:
Teach Preschool