Grouchy Ladybug Crackers
by Robin
(soggybottomsbabyduds.blogspot.com)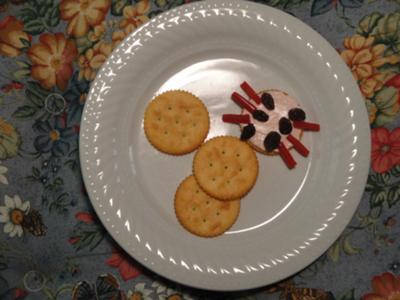 The Grouchy Ladybug!
Well, the crackers aren't actually grouchy, LOL. This is a follow-up activity that I use in my classroom after reading the book The Grouchy Ladybug.

For the snack, you will need the following ingredients:

round crackers (such as Ritz), strawberry cream cheese (or strawberry frosting if cream cheese is not going to work for you), red licorice laces (or licorice bites cut into strips...black licorice is more accurate, if your child likes the taste) and raisins (or chocolate chips).

After you read the book, then it's time for the yummy snack! I attached a picture of the finished snack. Remember to allow your child to do everything he/she is able. Who cares if the cream cheese is not spread evenly and the legs all wind up on the same side!? Symmetry is a developmental concept that your child will understand better as he/she gets older.

If your child will not eat the raisins or chocolate chips, have him/her count them out and put them on anyway. Same with the licorice legs. Any items he/she won't eat can be picked off. For that matter, if he/she doesn't want to eat the finished product at all, so be it! Maybe someone in your house (if all else fails, the DOG) will enjoy the snack. The important part is that you have spent some quality time with your child, UNPLUGGED from electronics, communicating and most of all, having fun together. This snack activity covers a whole host of educational concepts...following oral directions and counting objects, to name two.

I have created some little 'recipe cards' for you to use with this activity. See my blog SoggyBottomsBabyDuds (scroll to June 22) for this and more weekly Fun Day Sunday activities! If you'd like a pdf, email me!