Toddler Recipes: Sugar Cookie Icing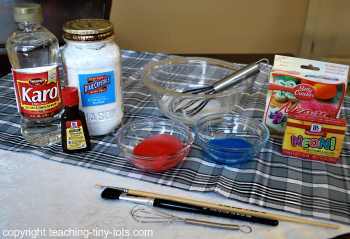 Toddler Recipes: Sugar Cookie Icing

DESCRIPTION

Here is a recipe to decorate sugar cookies. Dip or paint with brush...the possiblities are endless! Have fun! Add different size lollipop sticks and turn these lollipop cookies into perfect cookie bouquets. See our Sugar Cookie Recipe link below.


INGREDIENTS

1 cup confectioners' sugar
4 teaspoons milk
3 teaspoons light corn syrup
1/4 teaspoon almond extract
assorted food colors
MATERIALS

Bowl
Spoon

Small containers for each color
Whisk

STEPS
In a bowl, stir together confectioners sugar and milk until smooth.
With whisk, beat in corn syrup and almond extract until icing is smooth and glossy.
If icing is too thick, add more corn syrup.
Divide into individual bowls and add food color to each until desired color is achieved.
Paint with a brush.
TIPS AND SUGGESTIONS
We used a full brush to paint on the color and then I used a thin firm brush to create an edge.
Gels Food Coloring can also be used for colors.
OTHER IDEAS
Multiple Colors
Let each color dry before adding a second to prevent blending of colors.
Added Decorations
Use icing in a tube with the different attachments to embellish items with leaves, stars and lines.
Sprinkles
Add sprinkles while icing is wet so that they will stick!
Click here for Sugar Cookie Recipe