Learning to Read With Phonics
by Jim Yang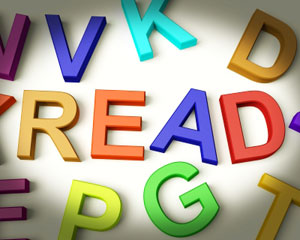 To become fluent readers, children must learn the foundational skills taught by phonics instructions. Any reading program worth its salt must include phonics learning as a necessary part of the learning process. To learn to read effectively, children must gain a keen understanding of the alphabet letters, know that the letters represent different sounds, and know how to use and combine those sounds to "sound out" the words.


The learning process for the child must follow a logical and sequential order of learning, and the initial phonics lessons should focus only on the basic code of decoding - as in teaching the most common sounds first, before getting into the more complex variation of reading English.

To begin, the child must first gain a mastery of letters and letter sounds. For example, when the child see the letter "A", he or she must instantly associate the short /a/ "ah" sound with it. The long /a/ "ay" sound should be taught later on to avoid confusion.
Along with letter sound mastery, the child will also need to begin with blending exercises where the child learns to "sound out" words through the combination (blending) of the individual sounds. For example, let's use the word "hat". When a child sees the word, he or she should recognize that there are 3 phonemes (distinct sounds), which are: /h/ /a/
/t/, and that when these 3 sounds are blended together, it will say the word "hat".
It is through repeated practice and exposure where a child eventually develops automatic word recognition skills, and it is through this type of phonics lessons that the child learns how to decipher unfamiliar words he or she has never seen before. When a child learns to read through the whole language approach, the child learns to look at words as a "whole", and will rely on memorization of shapes and using clues based on the configuration of words to try to "figure out" what a word is. This is why so many children (and adults) are poor readers!
The phonics method of learning in combination with the development of phonemic awareness are absolutely essential in teaching children to read. There is no substitute method that works better than this approach, and as the National Reading Panel has stated, phonics and phonemic awareness instructions produce superior reading results than learning approaches that do not pay any attention to phonemic awareness.
If you would like to find more great information on how to teach your child to read, please visit us at: http://www.readingbyphonics.com On our site, you will find learning guides, videos, learning activities, and free printable phonics worksheets to assist you in teaching your child to read.
Reading By Phonics
Thank you!