Children's Birthday Extravaganza
by Andrea Boley
(Miami, FL)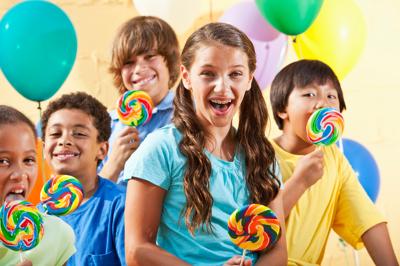 It's getting to be that time of year again, and you are stumped. Your child's birthday is creeping up on you and he hasn't given you any ideas for a theme. You want something new, not the same old party for the kids in your neighborhood. Princess and sports themes have been done a million times over. How about something unique; something more memorable and fun? There is no shortage of party possibilities. It just takes a little imagination and creativity. Various themes can be changed up to suit either gender. Have fun with the planning process and the children are sure to have a great time.


Abracadabra! Children love to be amused and amazed. Throw a magic birthday party and turn all the guests into magicians. Write party information on a white rabbit cutout and place in a black hat cut from cardstock. Leave the ears peeking out, allowing children to 'pull the rabbit out of the hat' and see their invitation. Or attach a magic wand to an invite and ask guests to bring it along with them to the party. Provide the birthday boy or girl with a magician's hat and cape. Give magic 8 balls, simple magic tricks, decks of cards, and color-changing candies as party favors. And if your budget allows, hire a real magician.

What kid hasn't been caught trying to mimic the robot dance? Encourage such things with a robot-themed party. While robots are especially popular for boys, they can be great for girls too. You can draw inspiration from a variety of TV shows and movies including Robots, Wall-E, Star Wars, Yo Gabba Gabba, or Power Rangers depending on your child's age. A robot theme can go with any color scheme, so tailor colors to suit your child's tastes. Make the party room look like a machine shop with various tools and wires. Add flashing and neon lights to add to the atmosphere. Serve a Chex mix
style snack labeled 'Nuts & Bolts', potato chips labeled 'Computer Chips', and drink of choice labeled 'Machine Oil'. Have a robot dance competition and create robot costumes out of cardboard boxes.
Whether your kid loves Spiderman, Batman, Supergirl, or any other superhero, a superhero party is sure to be a blast. If your child prefers a certain superhero, go with that. Otherwise, throwing a general superhero party in which party guests learn to become superheroes is a great idea. Serve 'kryptonite', or green Jell-O, but make sure to warn little superheroes of the danger. Keep your drink of choice in a pitcher labeled 'Superhero Energy Fuel'. Give older party goers some silly string and let them have a silly string fight outside. If you're going for a vintage look, find some old comic books to use as decorations. Allow guests to decorate their own mask and cape to give each child their own signature superhero look.
Send in the clowns. You don't have to go to the Big Top to enjoy the circus. Instead, bring the circus home for your child's next birthday. Make pretend circus tickets to send as invitations. Transform your party room into a circus tent by putting up colorful streamers. Attach them to the middle of the ceiling and pin to the corners and sides of the room, allowing the streamers to hang down the wall and creating the look of a circus tent. Place wire cages throughout the room, filled with fierce stuffed animals. Hang lots of balloons throughout the room and place three large hula hoops on the ground to create a three-ring performance area. And be sure to serve circus foods like peanuts (so long as there are no allergies), popcorn, large pretzels, and cotton candy.
Andrea Boley is a writer and blogger. She is always happy to share her passion for life and experiences through her work, and in her spare time works as a freelance writer for Storkie.