Toddler Travel: Airplane Travel Tips
Toddler Travel: Here are some tips on how to prepare for that airplane ride, what important items to bring and suggestions for entertainment.
DESCRIPTION
Toddler Travel on an airplane can be a very anxiety producing event so here are a few tips to help make it a little easier.
Preparing For the Flight
THE RIGHT CARRY ON BAGS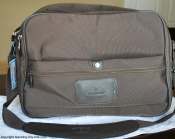 A carry-on that has sections and pockets and a shoulder strap will be very handy. Baby Backpacks, Roomy Diaper bags or the traditional carry on bag with strap are good choices. This bag should be able to fit under the seat in front of you. You will find yourself constantly getting things out...snacks, diapers, bottles, toys and books. This will be especially true with children under two years of age. Organizing items into different sections of your bag will make it easier to reach in and grab things without hauling it onto your lap to search for things.
See here for some suggestions and tips for selecting the
Best Carry On Bags
Food
FORMULA
If you use formula, try to find 1 serving size packets. Bring extra packets in case of a delay and enough empty bottles for the flight. Or bag one serving in a small ziplock or small tupperware. You can request bottled water to mix your formula with on the major airlines but with the economy affecting many changes, be sure to check if your airline will provide you with this when you make reservations. If you warm your baby's bottle, you might want to prepare your baby to accept room temperature bottles. Start a week or two before your trip.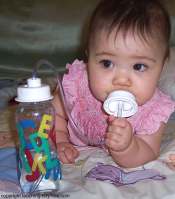 Request water as soon as allowable so you have it ready to make your bottles.
Podee Baby Bottle - Handsfree Feeding System
are great because it doesn't require tilting of the head to drink. I would recommend 4-6 months and up because it does require ability to suck a little harder than a regular bottle. Have your child practice using a Podee before taking with you. The top of the Podee will also fit on Dr. Brown's BPA Free Polypropylene 8 oz Bottle - 3 Pack
Save the cleaning brush from the Dr. Brown bottles to clean the Podee tubing.
Bring a couple zip lock bags that you can place bottles in after use to help prevent leakage into your bag. It will also help separate fresh bottles from used ones.
SNACKS
Bring a variety of snacks in small amounts. Goldfish, cheerios, individually wrapped cheese, baby crackers are some suggestions.
AIRPLANE MEALS
If you have a meal scheduled for your flight, call ahead of time and request the baby or the child menu. Make sure you specify which one since the baby meal comes with baby food in jars. Even if your child eats regular food, the child menu seemed to be better than the adult. It came with fresh fruit and milk.
Seats and Safety
If it is within your budget...get a separate seat for your child. It will be more comfortable for you and your child especially if it is a long flight. You could reason that you wouldn't put an infant or young toddler on your lap in a car, why would you do so on a plane?
To make toddler travel easier if you are bringing your own carseat, you might consider purchasing a car seat travel bag. It will allow you to sling it over your shoulder. It's pretty much a one function bag that you are only going to use in this situation, but worth it if you are wheeling a stroller and carrying additional luggage or travelling alone.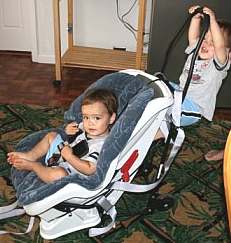 If you have a stroller waiting for you to use at your destination, an ingenious idea that my sister used for her twins was using a sturdy luggage cart to carry the car seat.
If your child is under two, you may want to take advantage of the free fare for children under two years of age. One suggestion we were told for parents deciding to travel with children on their lap is if your child is still able to fit in a Bjorn, use the Bjorn to take the stroll down the aisle and while sitting, just strap the seatbelt over both you and your baby while in the Bjorn.
An important toddler travel tip! If you are renting car seats or strollers, do some research and find a reputable company that takes measures to ensure cleanliness.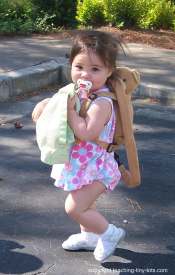 It is a toddler leash which I know some people don't care for...however, I'm always willing to sacrifice opinion for safety. With twins just learning to walk on the sidewalks I opted for this cute bear backpack leash. It also comes in a dog and monkey and now a bunny. It has a little zip pocket which is too small for much use but maybe can hold a paci. If used at the airport, keep the leash part coiled around your hand to keep your child close to you so you don't clothes line someone.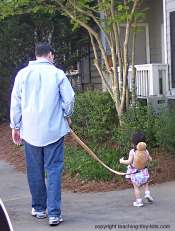 Practice using it around your home or at a local park so your child gets used to the idea especially if you have a darter!
Entertainment
DVD Player if your child is old enough to appreciate watching a show. When asked for recommendations, we were told buy an inexpensive one because it will break. Put fresh batteries in the DVD player before you leave or take an extra set.
Rent a headset if there is an appropriate in flight movie. My sister had a great idea...since her boys won't wear the headsets yet, she turned up the volume and placed the headset behind the car seat padding.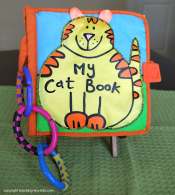 For toddler travel a new book or a favorite that they haven't seen for a while is another way to keep your child occupied. Select one with favorite characters or an interactive one that has textures. For babies, soft books with a loop are perfect. You can attach a couple links as shown in the photo or tie a wide shoestring to the loop so it can be retrieved easily when dropped or thrown. An older toddler may enjoy the look and find books which you can help keep their interest by directing them to look for the pictures.
Bring a couple new small toys that don't make a lot of sound or again, put away a couple favorites for a week to make it more interesting for your child.
Links or tying wide shoe laces to books and small toys with a loop are great for keeping them from falling to the floor.
Toddler tired of his or her toys...save those empty cups to stack.
See here for more ideas on what to bring to entertain babies, toddlers and young children.
Travel Entertainment
Items to Bring
Obviously each age will present different needs for your child but here are a list of toddler travel items to consider bringing.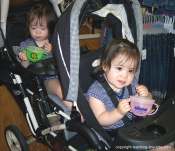 Snack Traps
This is handy for all sorts of toddler travel including trips to the mall, super market, car ride or on an airplane. Put cheerios, goldfish crackers or other cereal for younger toddlers. Introduce Snack Traps early to your child or the tendency it to take the cover off immediately. The handle makes it easy for your child to hold and you can even purchase straps to keep it connected to carseats and strollers. We still use them on road trips without the cover for grapes, chicken nuggets, etc because it is so easy to hold. They also make a handy cover for it.
Links and Wide Shoelaces
These are helpful for attaching toys and books to the seatbelt or car seat straps. As you know with the space being limited, you don't want to be bending down picking up toys every few minutes. Wide shoelaces are best because they are easier to untie.
Changing Pad
>
Bring a padded changing pad if your baby is in diapers. I know Delta has a flat fold out table above the toilet not much bigger than the fold down tray behind the seat with no straps and it was nice to have at least a padded surface to change on.
Baby Wipes for any Toddler Travel
Bring extra wipes. This is essential for all toddler travel! Wipes are great for clean ups, spills, sticky fingers and of course diaper changes. There are travel packs that come in soft dispenser which are easy to pack and not too bulky. You can also purchase individual wrapped or small packs of wipes that kill germs for hands or to wipe down restaurant tables or high chairs.
Tips for Travelling with Babies on Planes
Have your child drink their bottle or use paci during take off and landing to help prevent ear popping from the air pressure changes.
If your child is still in diapers, use an overnight diaper just before boarding.
When the girls were young, their bodies responded to what they ate, so we gave them a few slices of banana the day of the flight and it seemed to help reduce the number of dirty diapers
If you are waiting in the airport prior to boarding, let your toddler walk around in a safe area.