Toddler Travel: Disney World Travel Tips
Travel Tips to Disney World With Toddlers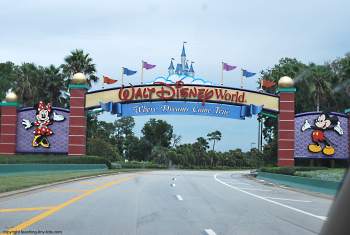 DESCRIPTION
Toddler Travel Tips to Disney World. Here are some of our tips to planning your trip to Disney World! We received some tips from a family that goes several times a year. Some of these tips were invaluable in making our trip a smooth one and allowed us to ride all of the rides we wanted!
Books and Resources
Books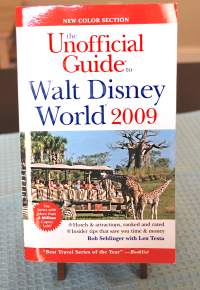 If you buy one book to plan your vacation...this is it...
The Unofficial Guide to Disneyland 2010 (Unofficial Guides)
!!
It's a very comprehensive guide to Disney World written in a humorous manner that makes reading this guide a lot of fun rather than tedious.
The touring guides help you plan your route so you can ride the most popular rides with minimal waiting in line. Reviews on restaurants and activities make it easier to decide which ones to go to. Lots of tips for first time visitors. A great way to get excited about your trip!!
Note: try to get the most current edition as rides and events do change frequently. Amazon was the most inexpensive way to purchase from our research but it is also available at large bookstores.
Websites
Allears
or for fast responses to questions you may have, go to Facebook and find Allears. Great way to get recommendations and advice from other Disney fans.
Disney Mom's Panel
is another great resource for tips and information. They screen questions so it takes a while before it gets answered so ask ahead of time. However, I found many of our toddler travel questions we had were answered just by browsing through the forums.
Strollers
Our best toddler travel tip: If your child can fit in a stroller, bring one, rent one or borrow one!
If you have a young toddler, my suggestion is to bring or borrow one. The walk from the parking lot to the Ticket and Transportation center to the ferry or monorail alone can tire a young toddler. Not to mention you can move a lot quicker and don't have to worry about your child getting while riding in the stroller.
If you have twins or two toddlers, buy two single strollers if you have assistance. There is NO such thing as a light double stroller. There are a couple instances you will need to fold up your stroller such as when you ride the trains or the trolley from the parking lot to the Ticket and Transportation center.
Research rental prices and other purchasing options. We found purchasing two single strollers was cheaper than it would have been renting two singles or a double one since we were there for five days.
If you buy one, find one locally and compare prices online. We found it cheaper purchasing directly locally.
Things to Consider
Cup Holders
Storage Space
Ease of opening and setting up
Ease of folding up and carrying in one hand
How much coverage does the shade give (if there is one)
Can you hang a bag over the handles easily without it tipping
Maneuverability
Width of the seat (for older toddlers)
Disney Strollers
Here are the Disney Strollers. As you can see storage is limited and it's not padded. I would not recommend this for a younger toddler myself without the padding and five point harness, however it can fit not only toddlers but children. They also have a double stroller available at a higher rate. Be sure to bring something you can tie to the handle to identify yours in the sea of look alike strollers.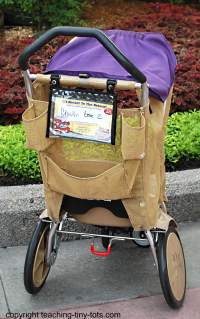 Safety Tips
Dress your child in a easily recognizable shirt. If you have more than one child you might consider dressing them in the same shirt. I've seen entire families dressed in the same t-shirt.
If you have a runner or a wanderer, take a picture on your phone in the morning before you get to the park so you can easily show the picture to a park employee if needed.
Explain to your child prior to going how important it is to stay close to you. Have a plan for them in case they do get lost if they are old enough to understand. I knew my two would not be able to find a location to meet, but I instructed them to use our standard plan for Malls and grocery stores. If possible stay in one location and do not separate if you are with a sibling.
Practicing toddler travel safety prior to going is helpful. Explaining while you are out on an errand how important it is to stay close and demonstrating your expectations makes it much more meaningful.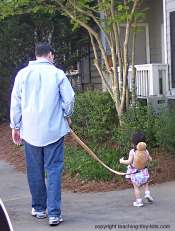 It is a toddler leash which I know some people don't care for...however, I'm always willing to sacrifice opinion for safety. We used this at busy airports and at the aquarium when the girls were very young. I opted for this cute bear backpack leash. It also comes in a Eddie Bauer Harness Buddy - Tan
and Eddie Bauer Harness Buddy - Monkey
It has a little zip pocket which is too small for much use but can hold a paci. Keep the leash part coiled around your hand to keep your child close to you so you don't clothes line someone.
Bags to Carry Personal Items
Lumbar Pack for Hands Free Ease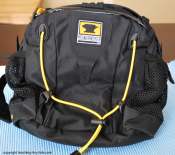 My husband used this to carry small items like tickets and ID's. This Mountainsmith Kinetic II Bag
like the one shown in the photo are good choices because they keep your hands free and your important items will be on your person at all times. This particular lumbar pack has a pocket on either side for water bottles. The main compartment has a small zippered mesh pocket and a clip for keys. Small padded front pocket for glasses. Approximately 8 x 8 x 3 inches.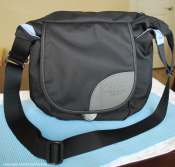 Travel Purse
Here is another option for carrying personal items and a little bit more. It's the Overland Equipment Donner Purse - Women's
with lots of compartments that lays relatively flat against your body but also large enough to hold my Nikon D-60.







The front has an organizer pocket with a slot for pens, pocket for glasses, two additional pockets for small items and a small zippered mesh pocket. There is a slip pocket in the back and a zippered main compartment with one slip pocket in the interior. It has two pockets on either side that will hold a water bottle.





Tote Bag
If you have a stroller a tote is useful for putting toddler travel items that you are not too worried about losing such as hats, extra water bottles, small snacks, extra socks or shoes or clothes for those wet rides, wipes, diapers, umbrella, etc.
Toddler Travel on the Airplane or Car
For those of you flying to your destination, see here for our recommended
Airplane Travel Tips
For those travelling to your destination by car here are some
Car Travel Tips