Toddler Travel: Disney World Travel Tips






DESCRIPTION Toddler Travel Tips Things To Bring
Make Your Day Easier
Thermos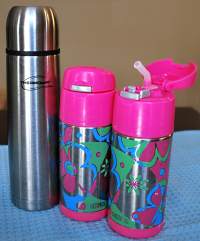 An insulated thermos packed with ice and fill with water. Amazingly, there were still a few cubes after six hours in the park in over 100 degree weather. Refrigerate the container overnight, fill with fresh ice and water in the morning and bring a couple extra water bottles to refill as needed.
Trick to keeping it cooler longer
: Cup holders are great but if it is in the summer, the direct heat will heat up your thermos much faster. We put ours in the tote bag and hung it from the stroller handles. We are fans of the thermos brand for it's leakproof design and replaceable straws.
Tip: Buy bottled water ahead of time. Disney does let you bring it in the park.
Fan Mister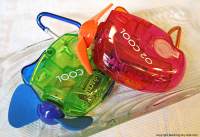 If you are planning your trip during a warm season, these are great to bring. They do sell the large Disney misters at the parks however they are about $17 US dollars.
We especially liked the small sized ones that I could just clip onto my bag when not in use and helped keep the girls occupied while standing in line.
Keeping Clean

Hand Sanitizers and wipes are great for quick clean ups before and after eating.




Potty Toppers

Disney does a great job keeping facilities clean but we liked using these as well.


Mark Your Stroller
Whether you bring or rent a stroller you want to mark it so that it is easily identifiable. If you park in a non designated stroller area or it is very busy, Disney employees will rearrange or move your stroller to keep things organized. The bright bandanna was easy to see. We even brought a simple lock with coiled chain to keep them together when it was peak hour.
I have heard that some people will take mistakenly (or not) someone's Disney stroller, and although it is easy to replace it is an unnecessary hassle so marking it with something may help eliminate that from occurring.
Autograph Book and Thick Pen

Don't forget to bring an autograph book and a thick pen like a Sharpie for character signatures. Bring a thick pen since it will be easier for the character to hold. You can find these at many stores. We found a cute Disney one at a craft store. They do have them at Disney World, however like everything else there is a little extra cost to purchase it here.
Sunscreen and Insect Repellent

A must have with little ones but here is a great way to carry it without taking up much space. I found these containers at The Container Store but should be relatively easy to find a similar one at any drug store or travel store.
SLR Cameras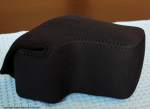 If you absolutely need to bring a large camera...like me. This was a great way to transport it during our trips to the different theme parks. It is a neoprene case with three ways to snap on to your camera. While it doesn't provide total protection in the event it is dropped, it does keep dust and dirt out of it and can be carefully put into a bag. Thus eliminating a second bag.
Other Toddler Travel Items to Bring


Ziplock bags (large and small)
Small First Aid Kit
Hats or Visors
Rain Gear
Medications (prescription, OTC, etc)
Identification (Drivers License)
Photo Pass: you will get a Photo Pass when pictures are taken of your child. You can purchase the pictures later online. While this is wonderful option especially if you forgot your camera or don't want to carry one, the pictures are expensive.
Notepad/Pen to keep your Child busy
Small Toy for waiting in lines
Crocs or Water Shoes if you plan to ride the really wet rides
More Disney Toddler Travel Tips
For more Disney World Tips and Resources see here
Disney World Tips
Toddler Travel on the Airplane or in the Car
For those of you flying to your destination, see here for our recommended
Airplane Travel Tips
For those travelling to your destination by car here are some
Car Travel Tips