Toddler Travel: Car Travel Tips
DESCRIPTION
Toddler Travel in a car can be very exhausting...so here are a few tips to help make it a little easier. We travel regularly to visit family in car rides lasting anywhere from 1.5 hours to 9 hours since the girls were born. While you can't ensure your baby or toddler will be cheerful the entire way, here are a few toddler travel tips to help the car ride go smoother!
Preparing For the Car Ride
The Snack Bag
One of the most important keys to a smooth car ride! I found that a cooler bag works very well. It is narrow and flexible so it fits easier between seats. The insulated sides help keep thermos, water and baby bottles cool as well as keeping items like grapes, cheese at a nice temperature. For extra cooling I add a couple reusable blue ice. I store most of the snacks in zip lock freezer bags. Fruits in one, cracker snacks in another and cheese in a third. If it's a long trip I add more variety such as cereal, cinnamon raisin bread more fruits like cut apple slices, cut strawberries, blueberries and string cheese.
Diaper or Potty Bag
A bag designated for diaper and potty items that has sections or pockets is very handy. Organizing the diaper items makes it easy to do a quick change in the car or van without out digging for items or retrieving them from a suitcase or various bags. Store an extra changing pad or a disposable one in one of the pockets. Keeping an extra set of clothes in a zip lock is also helpful. I actually started keeping a tub of wipes in the car for quick clean up of faces and hands too. Keeping this bag stocked in your car for daily trips and refilling as needed made even day trips were helpful.
As the girls started to potty train, this became filled with extra clothes, potty toppers and pull ups.
Potty Toppers
Neat Solutions 10-count Dora the Explorer Potty Topper Disposable Stick-in-Place Toilet Seat Covers
are great for beginning toddlers using the potty. Seeing my little ones holding on to the potty for dear life while potty training led me to research potty toppers for restrooms stops along the road. I know despite my warnings, "Don't touch, hands in lap, etc." that it would take a while to train them. I always carry one in my purse with me since many restrooms don't have the disposable liners.
Portable Potty

We have a minivan which makes this Toddler Travel Potty Chair
a great alternative to using a "poorly maintained" public restroom or when there is none for miles.
You can use regular gallon ziplock bags that you can store in compartments on either side. Folds up nicely with a handle like a small suitcase.
The Graco Traveling Potty Seat
is another option which is inexpensive and quick to set up but after purchasing, I didn't want to carry it with me everywhere we go as well as cleaning this after each use before storing. It also does not fit as well on elongated seats.
Hand Sanitizers
A pocket sized hand sanitizer works well for cleaning hands at any time during the toddler travel, but especially after using the restroom since many sinks are out of reach of children or often wet all around it. Even if you lift your child up, they still sometimes manage to get their clothes wet.
Entertainment
DVD Player
If your child is old enough to appreciate watching a show. When asked for recommendations, we were told buy an inexpensive one because it will break. A new DVD is always more entertaining or one they haven't seen for a while. If you are going to a special place, you might find one related to your trip.
Music that your child enjoys. We used to play certain CD's for nap and bedtime and we'd bring these along and the girls would fall asleep in the car. Coincidence.. maybe, but it was great on our 5 hour car rides.
A new book with lots of vivid pictures are fun. Select one with favorite characters or an interactive one that has textures. For babies, soft books with a loop are perfect. You can attach a link or tie a wide shoestring so it can be retrieved easily when dropped or thrown. Older toddlers and children may enjoy the look and find books or one with the removable peel and stick pieces.
New Small toys that don't make sound! Or again, put away a couple favorites for a week to make it more interesting for your child.
For older toddlers a trip to a Dollar Tree, Target Dollar Section or Michaels Dollar section will go a long way. Look for small notebooks with colorful pages, boxes of mini stickers, mini colorbooks with stickers, coloring pages with marker sets, small travel games.
Entertainment For Older Toddler Travellers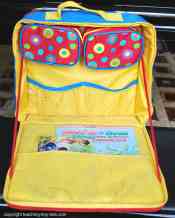 Car Valet
There are different brands of car valets and trays. These can be very handy for older toddlers if it fits properly in your vehicle or car seat.


The one shown in the photo will hang from the back of the driver or passenger seat. It is for children sitting in the lower profile car seats. I selected this one because it can just zip up and be pretty much out of the way. It took a little while for them to learn how to open the zippers, but they close with the zippers just half zipped which made it easy for me to reach behind and open when I am the passenger.
Toddler Travel Tray
There are lap tables or trays. Some of the lap trays require it to be strapped to the car seat or around your child's waist. If you do opt for this type of play table, be sure it is a reputable company. Some are actually crash tested. This style will fit better on some models of car seats. Before ordering you might want to check with the return policy if they do not fit properly.
Items to Bring
Here are a few toddler travel items to consider. Obviously each age will present different needs for your child but here are a few items to consider.
Snack Traps
I like Snack Traps for all toddler travel, car, plane and outings to the Mall. I use a snack traps without the lids now that they are older to distribute snacks in. It's easy for them to hold on to the handle and reduces the number of spills. We use for lunch on the go too...fill with cut fruit, chicken nuggets etc. As mentioned they also have a solid cover as well as the snack trap cover.
Links and Wide Shoelaces
These are helpful for attaching toys and books to the seatbelt or car seat straps. As you know with the space being limited, you don't want to be bending down picking up toys every few minutes. Wide shoelaces are best because they are easier to untie.
Wipes
Keep a tub handy for quick clean ups. Wipes specifically for face and hands are also available in small packs or cannisters.
Roll of Paper Towels
Keep a roll in the car for unexpected spills or other clean ups.