Toddler Toys: Baby Jumpers
Toddler Toys: One of the most favorite activities the girls enjoyed was playing in the jumpster.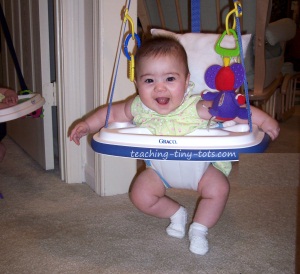 DESCRIPTION
The jumpster was our number one all time favorite activity. Play music, sing songs and count jumps with your infant to promote exercise.
TIPS AND SUGGESTIONS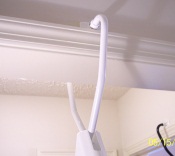 Before purchasing check to see if your door frame is secure and check toy recalls in the event that certain models or brands have an issue.
This is the jumpster brand that we selected after researching online. Graco Bumper Jumper
This is a toy that I'd consider purchasing new to help ensure that the spring and clamp is new and has no wear.
Monitor your child at all time to keep them safe. Be sure to heed age appropriate warnings and child must be able to sit up.
Use a baby pillow or blanket to help support younger toddlers.
Wear indoor shoes like Zutano Booties
Put a small crib blanket or rug under child if you have your child is bouncing on hardwoods or tile to keep it softer on the feet.
You can adjust the height of the jumper so read the instructions carefully to adjust to your childs body.
Child should not be in jumpster for extended periods of time. Follow recommendations in the instruction manual
Follow weight restrictions.
ACTIVITIES
Play Music
This was our favorite jumping music.Dance, Baby, Dance!
Sing
Sing to your child
Great Photo Op
Take videos...they are absolutely adorable when they are first learning to jump. We got some of our happiest pictures in the jumpster.
Added Entertainment
Use links to attach soft books or small age appropriate animals