Toddler Recipes: Strawberry Milk Shake
Toddler Recipes: Make a delicious and refreshing Strawberry Milk Shake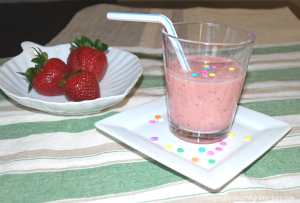 DESCRIPTION

Whip up a Yummy Strawberry Milk Shake with Fresh Strawberries
INGREDIENTS
1 pint low-fat vanilla ice cream
1 cup fresh strawberries, washed and tops cut off, or blueberries
1/2 cup milk
1/4 teaspoons vanilla
OTHER ITEMS
food processor or blender
Two glasses
Straw (optional)
STEPS
Combine all ingredients in a food processor or a blender. Blend until smooth.
Pour into glass and serve immediately.
TIPS AND SUGGESTIONS
Add a couple sprinkles to make it festive.
OTHER IDEAS
Extra Healthy Version

1 1/2 cups milk
2 tablespoons sugar
1 teaspoon vanilla extract
1 cup strawberries
Blend as above.
This version is a less thick due to the milk, it will be more like a smoothie. Skim milk will make it thinner than whole milk. 1 Tablespoon honey can replace the sugar if preferred.
EDUCATIONAL TIPS
Write out the recipe for your child to follow. Line up the ingredients on the counter so they can match ingredients on the recipe and follow along.
Use plastic measuring cups and let your child help you find the correct one for each ingredient. Line up the measuring cups in a row from small to big and discuss which one holds the most, which cup holds the least.
EDUCATIONAL NOTE
In the Southern U.S. and California, strawberry season begins in April. In the North, it begins in late May and early June. Fresh picked strawberries from a farm are much sweeter than your store bought fruit. Most store bought fruit are picked a little underripe. You can tell when they're white inside. Unripe berries will not ripen once picked. Ripe strawberries are a deep red color throughout. Smaller berries are often the most flavorful.
Strawberries are very healthy for you and when eaten fresh, eight medium-sized strawberries contain 140% of the U.S. RDA for Vitamin C. One cup of strawberries contains about 55 calories.