Toddler Recipes: Oven "Fried" Chicken
Toddler Recipes: Oven "Fried" Chicken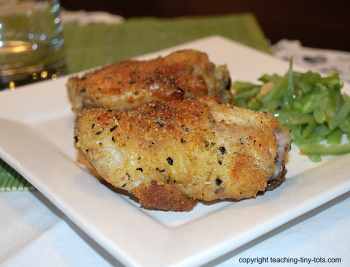 DESCRIPTION
Love fried chicken but want a healthier version? Here is a baked version that will give you the same crispy outside as fried chicken.
INGREDIENTS
1 fryer cut up or thighs with skin for crispiness
1/2 cup bread crumbs
1 teaspoon oregano
1/2 teaspoon salt
1/4 teaspoon garlic powder
1/4 teaspoon pepper
1/4 teaspoon basil
1/4 cup grated Parmesan Cheese
MATERIALS
Baking Pan 9 x 12
Tongs
STEPS
Preheat oven to 375 degrees F
In a bowl, combine all dry ingredients. Mix.
Wet chicken and roll chicken pieces in crumb mixture
Place in baking pan.
Bake approximately 45 minutes or until done for thighs bone in.
TIPS AND SUGGESTIONS
Oven time will vary depending on size of chicken and whether it has a bone, so cut into a piece to check readiness or use a meat thermometer to ensure safe cooking.
I like to add 1/4 teaspoon Lawry's Seasoned Salt to the dry ingredients.
Skin on will have crispier version but we have done skinless as well and it is still very flavorful.
Make double the dry ingredients and store have in a sealed container in the refrigerator for a quick fix meal.
Need a really quick cooked meal for your children? Cut small boneless pieces of chicken into bite size pieces, roll in dry mixture and bake in a small convection or toaster oven for about 20-30 minutes or until done. Again size will determine how fast it cooks. Cut into pieces to check doneness.