Oven Fried Chicken

Print Recipe Here Oven Fried Chicken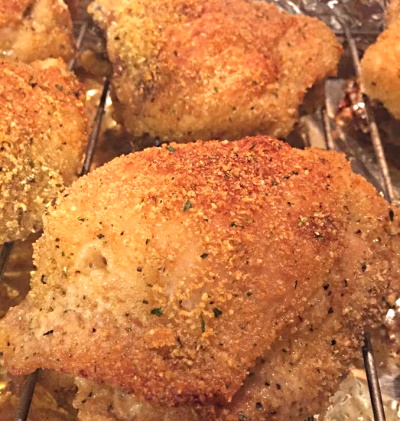 Ingredients
6-8 pieces of thighs, wings, drumsticks preferably with skin

1/2 cup Italian Bread Crumbs

1 tsp Oregano

1 tsp salt (or 1/2 tsp garlic salt plus 1/2 tsp seasoned salt)

1/4 tsp garlic powder

1/4 tsp pepper

1/4 tsp basil

1/4 cup grated Parmesan
Steps
Preheat Oven to 350 degrees F
Line a 9 x 12 pan with foil for easier clean up and put a rack inside to keep chicken from sitting in drippings
Mix all ingredients well in a bowl. Pour into a large gallon ziplock and place one piece of chicken at a time, hold top securely and shake until chicken is completely coated.
Place piece of chicken on rack and follow with the rest arranging so that pieces do not touch each other as much as possible.
Bake in oven until 180 degrees (approximately 45 minutes). Time will vary on size of pieces and bone in or boneless.
If you want a slightly crisper skin, simply turn on broiler for 2-3 minutes watching to make sure it doesn't burn.
Quick Tips
Need a really quick cooked meal for your children? Cut small boneless pieces of chicken into bite size pieces, roll in dry mixture and bake in a small convection or toaster oven for about 20-30 minutes or until done. Again size will determine how fast it cooks. Cut into pieces to check doneness.

Use a Digital Thermometer for easy way to check if your chicken is at the right temperature. We love the one below. Just stick probe in chicken and place the thermometer base on counter or stick to magnetic surface like the oven. Set the desired temp and loud alarm will sound. I test a couple pieces with the probe for doneness. So much easier than pulling out the pan and cutting into the chicken.