Toddler Recipes: Make a Muffin or Bagel Pizza
Toddler Recipes: Toaster Oven Pizza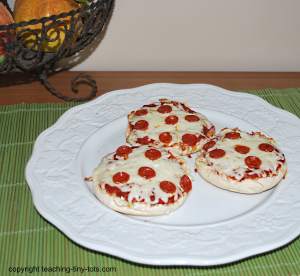 DESCRIPTION
Have a Finicky eater? Watch your toddler get excited about making his/her own lunch... then watch them eat it up!
INGREDIENTS
1 English Muffin or Mini Bagel split in half
Pizza Sauce (pre made like Boboli orRagu or see recipe below)
Mozzarella Cheese
Pepperoni, olives, chopped tomatoes, mushrooms, green peppers (optional)
OTHER MATERIALS
Bowl and spoon for sauce
Bowl for cheese and other toppings (pepperoni, olives, tomatoes)
Toaster Oven
STEPS
Lay out split muffins or bagels on dish.
Have each ingredient in separate bowl ready to dish out.
Line toaster oven pan with foil


Spoon sauce on muffin
Add toppings.
Toast!
TIPS AND SUGGESTIONS
Be sure to check temperature before letting child eat....tomato sauce retains heat and can take a while to cool.
Easy Pizza Sauce
Sometimes we make our own sauce. Here is a simple recipe that tastes great.
Ingredients
1 (14.5 oz.) can tomato sauce
1 (6 oz) can tomato paste
1 Tablespoon ground oregano
1 teaspoon garlic powder
1 teaspoon ground paprika
1/2 teaspoon Italian Seasoning
1/2 teaspoon Lawry's Seasoned Salt (optional)
Steps
In a medium bowl, mix together tomato sauce and tomato paste until smooth using whisk. Stir in oregano, garlic and paprika and other seasonings of choice.
This will make quite a bit of sauce....use the extra and make Spaghetti! Or halve the recipe and use an 8 oz can of sauce and half a can of tomato paste. Adjust the seasonings accordingly.
OTHER IDEAS
Bagel Pizza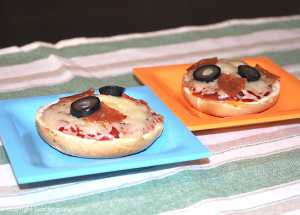 Bagels make great Pizzas too! Just follow the same steps as above to make.