Toddler Recipes: Easy Snacks For Kids
Toddler Recipes: Fast and Easy Snacks for Kids







DESCRIPTION

Easy Treats, desserts and Snacks for Kids

Desserts
Cheese Crisps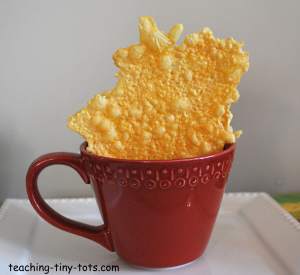 INGREDIENTS
2 Tablespoons Cheddar Cheese
OTHER MATERIALS
Parchment Paper or waxed paper
Baking Sheet
STEPS
Line a baking sheet with parchment paper.
Put the cheese onto the parchment paper and spread it into a flat circle.
Place in the oven for 5-6 minutes.
Let cool.
Break into small pieces to sprinkle on salads or eat as a snack.
Triscuit Snacks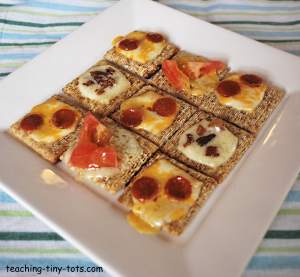 INGREDIENTS
Triscuits
Cheddar, Monterey Jack or other cheese
Toppings: Pepperoni, Tomatoes, Olives, Bacon Bits, etc
STEPS
Place triscuits on paper plate to microwave or foil lined tray for toaster oven.
Place square of cheese or small pinch of shredded cheese on each triscuit.
Top with pepperoni, tomatoes, bacon bits, olives, etc.
Toast in toaster oven or microwave for 10-15 seconds, just until cheese is melted (time will vary)
Let cool before eating.
Yummy snack! Always check it is the right temperature for your child to eat.
Ham and Cheese Roll Ups
INGREDIENTS
Ham or turkey
Slice of cheese (American, Velveeta, Provolone)
Cream Cheese
Olives
STEPS
Place slice of ham or turkey on plate.
Spread some cream cheese on the ham.
Place a slice of cheese on top
Add some olives (optional)
Roll up and cut up into pieces.
Great party snack idea. Easy to make and fun to eat.