Graham Brittle

Description
Graham Crackers with a Butter Glaze and Almonds. This is a very simple recipe with yummy results! Place in a decorative container and it becomes a tasty treat to give at any time of year to that special person.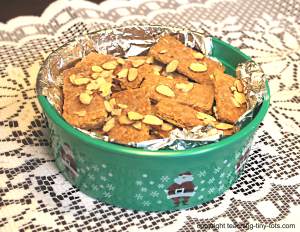 Ingredients
1 Box Honey Maid Graham Crackers
1/4 cup white sugar
1 block butter or margarine
Almond Slivers
Other Materials
1 or 2 Cookie sheets lined with foil or parchment paper
Small Microwave Safe Bowl
Spoon
Butter Knife or Silicone Brush
Steps
Cover cookie sheet(s) with foil.
Break crackers into fours and line up in a single layer on cookie sheet
This step is for an adult to complete. Melt sugar and butter together on med heat. Boil for 3 minutes. Stir to avoid scalding.
Drizzle over crackers. Adult should drizzle and if child is old enough they can help to spread the "caramel" using a pastry brush or plastic knife.
Sprinkle almond slivers over each piece.
Bake at 325 degrees for 15 minutes. Sugar mixture should caramelize, bubble on each cracker. Do not over bake, crackers will scorch.
Note
Please ensure that your child does NOT have a nut allergy prior to this activity.
If your child is allergic to nuts you can substitute crushed pretzel pieces, mini chocolate chips.
Letting mixture cool just a little before "drizzling" makes it a little thicker making it easier to apply to cracker.
Other Ideas
Place in a clear treat bag or Christmas tin and tie with bow for a sweet treat to a teacher or special person.