Toddler Recipes: Fruit Rainbow
Toddler Recipes: Learn about rainbows and make a yummy fruit rainbow.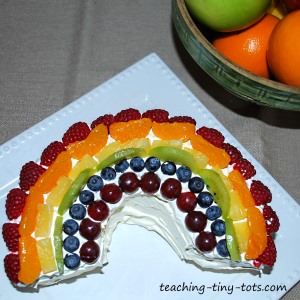 DESCRIPTION

Learn about the colors of the rainbow and find fruit of similar colors to make a fruit rainbow decorated cake. Great no bake toddler recipe!

MATERIALS OTHER MATERIALS

Cookie sheet or cutting board to work on
Spatula
Small Bowls to sort fruit or muffin tin
Knife to cut fruit (adult only)
Paper towels handy
FRUIT SUGGESTIONS



RED: Red raspberries, cherries, strawberries, red apples slices, watermelon
ORANGE: Orange slices, mandarin oranges, melon, peach slices
YELLOW: Bananas, pineapple, star fruit slices
GREEN: Green Grapes, Kiwi, Honeydew Melon
BLUE: Blueberries
VIOLET: Purple Grapes, plums
Note: Indigo has been omitted...see educational note below.
STEPS
Print the colored rainbow and go over the colors with your child.
Print the blank rainbow for older toddlers and let them color in the rainbows.
Discuss what fruit matches each color and make a list or visit a grocery store and find the fruit there. Be sure to bring the rainbow printout.
Purchase bundt sponge cake or make one.
Cut fruit in half or small pieces and separate into small bowls or muffin tins.
Have your child help arrange the bowls in order.
Cut cake in half and place on cutting board or surface to work on.
Using spatula, frost the cake with whipping cream.
Arrange fruit on cake in rows or columns.
TIPS AND SUGGESTIONS
The pneumonic Roy G. Biv is an easy way to remember the colors of the rainbow. Indigo has been omitted in this toddler recipe due to the fact that it is a color not easily distinguishable to the human eye.
Read a book or two before you begin this activity
Start with the inner or outer ring (Red or purple) or place one of each fruit at one end of the cake. This will help you plan if you need to adjust size of fruit and give your child a guide for what color fruit to place.
We found we had to stand a few of the fruit up to fit all the colors.
OTHER IDEAS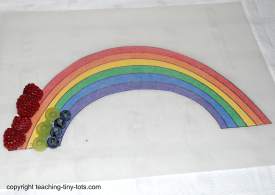 Fruit Rainbow Placemat
Print out colored rainbow pattern and cut out. Place between two sheets of waxed paper an iron on very low heat. Be sure to put newspaper under while ironing. Some wax will transfer onto iron or newspaper. Make a placemat for your child's lunch! For fun give them some fruit to match the rainbow.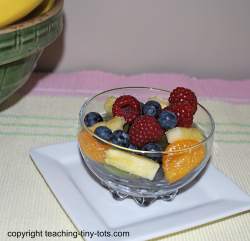 Fruit Salad
Extra fruit? Make a yummy fruit salad. Put the extra fruit in a dish for your child to enjoy. Add a dollop of whip cream to make it extra special.
Make this toddler recipe with fresh fruit instead of canned fruit cocktail!
Fabulous Fruit Salad
EDUCATIONAL NOTE
The human eye is relatively insensitive to hue changes in the wavelengths between blue and violet, where Isaac Newton defined indigo to be; therefore most people do not distinguish indigo from blue and violet. Due to this, some people feel that indigo should not be regarded as a color, but merely as a hue of blue or violet. Most people still regard it as one of Newton's named colors of the rainbow spectrum along with red, orange, yellow, green, blue, and violet.