Toddler Recipes: Easter Basket Cupcakes
Toddler Recipes: Make cute Easter Basket Cupcakes with Jelly Beans
DESCRIPTION

Fun to make Easter basket cupcakes with candy treats.

MATERIALS

Box of cake mix
White Cake frosting
Shredded Coconut
Small egg shaped candies (jelly beans, malted eggs, jelly bellies, bubble gum eggs for older children)
Green food color
Pipe cleaners
Thin ribbon
OTHER MATERIALS

Muffin Tins
Muffin Liners
Small ziplock
Cookie sheet or cutting board to work on
Spatula
Small Bowls for candies
Small spoon
Paper towels handy
STEPS
Line muffin tin with liners.
Bake cupcakes as directed on box.
Let cool completely and then frost with white cake frosting.
Place white coconut in small ziplock and add a drop of food coloring. Shake bag up and down to spread color. Add another drop if desired.
Place colored coconut in center of cupcake. With a small spoon hollow out center a little by pushing coconut to form a raised ring (nest)
Use frosting or Wilton Icing to hold eggs in place. Place candies inside of nest.
Tie ribbon on pipe cleaner and cut bend in an arc. Cut to desired length leaving about an inch on each side to poke into cupcake.
Poke bent pipe cleaner gently into cupcake making sure you are not too close to the edge (adult recommended)
TIPS AND SUGGESTIONS
Licorice strings are hard to find but can be used for the basket handle.
If you want finer coconut, or have a few long pieces, chop in a small food choppper or processor.
If you are doing this activity with young children, then make the handles ahead of time.
OTHER IDEAS
Mini Easter Cupcakes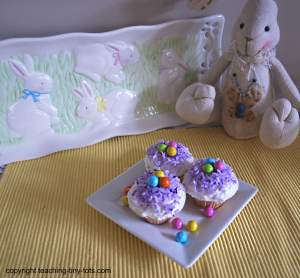 We made some mini sized cupcakes which we decorated similar to above with a different colored coconut. We used small sixlet candies for these. Cute even without the handle and very easy to decorate.
Perfect size for younger toddlers!!