Toddler Recipes: Boiled Peanuts
Toddler Recipes: Boiled Peanuts: Not too salty, not too soft...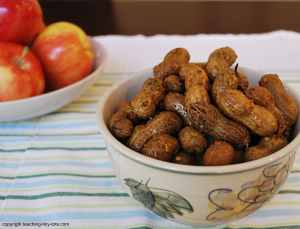 DESCRIPTION
I grew up eating boiled peanuts...not in the South but in Hawaii and I remember them as being a little crunchy and just enough salt. I had a craving for boiled peanuts but everywhere I went they were too soft or too salty for my preference...so I found a recipe and tailored it a bit.

Important! Please see note at the bottom regarding young children and peanuts.


INGREDIENTS
1 pound raw peanuts, in shells
1 tablespoon garlic powder
1/4 cup salt
OTHER ITEMS
Large Pot
Wooden Spoon
STEPS
Place about 8 cups of water in pot.
Add all ingredients. Stir to combine.
Bring to a boil, reduce heat to low simmer for 2 1/2 hours, covered.
Check every 30 minutes to ensure there is enough water. Add a cup more if water gets too low.
Sample after 2 hours to test how soft it is. Check every half hour until it is at the desired softness. I cook for total of 2 1/2 hours.
Drain in colander.
Rinse if you prefer less salt.
Remove sauce pan from heat and stir in baking soda and vanilla extract.
TIPS AND SUGGESTIONS
Rinse if you prefer less salt.
If you prefer it saltier than it is, you can let it sit in the brine as it cools and check for 20 minutes. That way you won't get mushy peanuts by cooking longer.
OTHER IDEAS

This is the

SPICY CAJUN VERSION

for Adults

Ingredients

In addition to the above ingredients add:

1 tablespoons Cajun Seasoning (check there is no salt in it or minimal unless you like it salty!)
Add 1/8 cup chopped jalapeno peppers
TBS red pepper flakes
Steps

Add to pot and stir with other ingredients
See above for cooking directions.
Important Note
Consult with your pediatrician first before giving your child peanuts or any toddler recipe containing peanuts in other forms like peanut butter.

Whenever trying new foods, especially ones that typically cause allergic reactions such as peanuts, try it during the day or during a time you will be able to observe your child. There may be a greater likelihood of allergies if family members also have them although this is not always the case so always be watchful when your child tries something new.