Toddler Recipes: Fresh Blueberry Star Pie
Toddler Recipes: Stars make this Blueberry pie a winner! We found a cute picture of this pie in a Family Fun Recipe book and added the stars to our favorite blueberry pie recipe.

<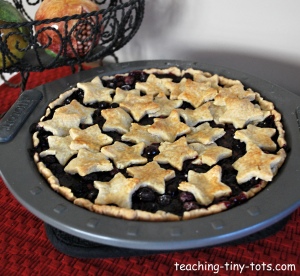 DESCRIPTION
Fresh, ripe blueberries make this pie delicious...and the stars make it spectacular! Perfect for a 4th of July Party or celebration with family
INGREDIENTS
3/4 cup white sugar
5 Tablespoons cornstarch
1/4 teaspoon salt
1/2 teaspoon ground cinnamon
4 cups of fresh blueberries
2 Tablespoons Lemon Juice
1 Tablespoon Butter
1 recipe for 9 inch double pie crust or Pillsbury Pre-Made Crust
One egg white (optional)
MATERIALS
Parchment paper
Cutting Board or smooth surface to work on
Foil
Bowl
Spoon
Star Cutters
Rolling Pin
Pie Dish (works best)
STEPS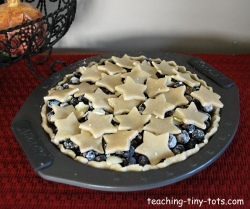 Mix cornstarch, sugar, salt and cinnamon and sprinkle over blueberries. Add 2 Tablespoons of lemon juice.
Line pie dish with one pie crust.
Pour blueberry mixture into the crust, and dot with pieces of butter.
Line cutting board with parchment paper roll out remaining dough. Cut remaining pie crust with a star shaped cutter.
Lay stars on top of the blueberry mixture.
Brush egg white lightly with pastry brush (optional)
Cover edges of pie crust with foil and bake with foil until the last 15 minutes.
Bake in preheated oven at 375 degrees on the middle rack for 50 minutes until crust is golden brown.
Let cool for one hour before slicing. This is very important to let the cornstarch absorb some of the blueberry juices
Serve warm with vanilla ice cream or a dollop of whipped topping.
TIPS AND SUGGESTIONS
If possible use fresh blueberries for best results. There is no comparison in taste when using freshly picked fruit for toddler recipes.
After making twice, I'd use the Pillsbury crust from now on...results were great and it was sooo much easier!
Parchment paper makes the stars easy to lift up and place on the pie after cutting. Without it, the dough may stick to your surface and trying to take it off the cutting board can make your stars misshapen.
Pie is best eaten when warm.
Wait one hour before slicing for best results.
A premade pie crust would probably work, just let thaw enough to cut with cutters.
I folded strips of foil in half and laid it over the edges of the pie. I used about 6 pieces so that only the edges were covered.
We used plastic cutters which are great for all toddler recipes requiring cutters. It's just like playdough cutters!
PIE CRUST RECIPE
Pie Crust
This was our first pie ever! We tried this pie crust recipe. It tasted fine but I had to add 7 tablespoons to the dough to make it easy to roll without being too sticky. Original recipe called for up to 6. I had a slightly larger pie dish so I had to add a little more dough to cover the bottom. Depending on your pie dish, you may have to adjust accordingly.
INGREDIENTS
2 cups all-purpose flour
1 teaspoon salt
2 Tablespoons sugar
2/3 cup shortening
6-7 Tablespoons cold water
MATERIALS
Parchment paper
Rolling Pin
Bowl
Measuring cup and spoon
STEPS
Mix flour and salt in a large bowl. Cut in shortening with a pastry blender until mixture is completely blended and appears crumbly.
Mix in water, 1 tablespoon at a time. Add only enough water to form mixture into a ball. The dough will be sticky if too much water is added and it will crack and tear when rolled if too little is added.
Divide the dough into two balls.
Roll out the dough on parchment paper. Lift and place into pie pan.
Roll out the second dough ball and cut out stars. Reform into ball and roll out again for more stars.
Educational Note

Benefits of blueberries

Blueberries are high in antioxidants
Neutralizes free radicals which can affect disease and aging in the body
Helps promote urinary tract health
Been proven to help preserve vision
Blueberries have one of the highest amount of antioxidants and antioxidants fight diseases such heart disease and even cancer

A half-cup of blueberries has as much as five times the antioxidant power of other fruits and vegetables. Blueberries are also high in fiber and contain pigments that also help prevent cancer and can aid in weight loss. Studies have found that compared to 40 other fresh fruits and vegetables, blueberries rank number one in antioxidant activity.



Picking blueberries can be a fun activity and perfect for many toddler recipes! Just remember the sunscreen and water...it's HOT out there! You may get just as much in the tummy as their bucket...fresh blueberries taste like candy. Yes, mommy and daddy are guilty of tasting a few.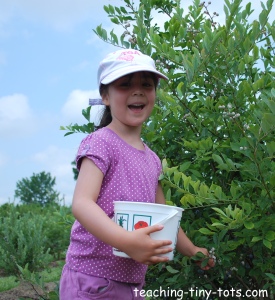 We will have more blueberry toddler recipes shortly!!