Our All-Star Blueberry Pie

Print Recipe Here All Star Blueberry Pie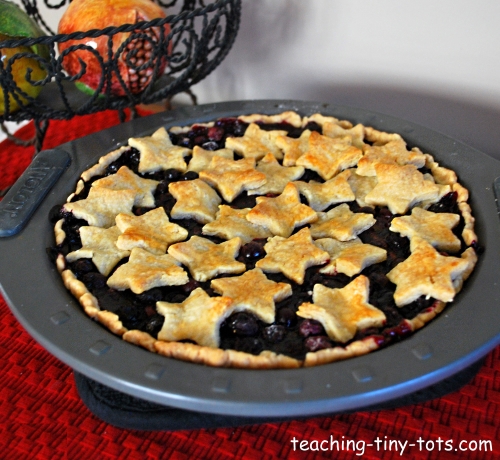 Ingredients
3/4 cup white sugar

5 Tablespoons cornstarch

1/4 teaspoon salt

1/2 teaspoon ground cinnamon

4 cups of fresh blueberries

2 Tablespoons Lemon Juice

1 Tablespoon Butter

Pillsbury Pre-Made Crust

One egg white (optional to brush the top of the pie before baking
Steps
Mix cornstarch, sugar, salt and cinnamon and sprinkle over blueberries. Add 2 Tablespoons of lemon juice.
Place pie crust into pie dish.
Pour blueberry mixture into the crust, and dot with pieces of butter.
Line cutting board with parchment paper roll out remaining dough. Cut remaining dough with a star shaped cutter.
Lay stars on top of the blueberry mixture.
Brush egg white lightly with pastry brush over the stars (optional)
Cover edges of pie crust with foil and bake with foil until the last 15 minutes.
Bake in preheated oven at 375 degrees on the middle rack for 50 minutes until crust is golden brown.
Let cool for one hour before slicing. This is very important to let the cornstarch absorb some of the blueberry juices
Serve warm with vanilla ice cream or whipped topping.
Tips
Fresh picked blueberries if possible or store bought. Frozen is not recommended.

Use plastic cutters so kids can make the stars. Roll dough on parchment paper so the stars lift off easily.