Toddler Recipes: Berry Smoothie
Toddler Recipes: Quick and Easy Berry Smoothie
Perfect Summer Treat and a Great way to get a serving of fruit in your day!
DESCRIPTION
Blueberries or Strawberries make this a really delicious smoothie...perfect for these hot summer days.

INGREDIENTS

1 cup blueberries or strawberries or a mixture
1 Yoplait Light Yogurt Vanilla
1 cup skim milk
1/2 cup orange juice
2 teaspoons Honey
1 cup of ice


Note: Makes 2-3 servings
OTHER ITEMS

Blender
Measuring cup
Measuring spoon
STEPS
Fill the blender with all ingredients
Blend until smooth. Add more ice if you desire.
TIPS AND SUGGESTIONS
If you use frozen berries, use less ice since frozen fruit has some water in it.
OTHER RECIPES

Super Easy Milkshake

3 cups blueberries or strawberries (add more if fruit is out of season for stronger flavor)
2 cups milk
2 to 4 Tablespoons white sugar
1 teaspoon vanilla extract
1 1/2 cups of ice

Tips

This is a simpler shake to make but because of it there are more variations that you will find in taste.
.
Depending on the season, you can adjust the amount of sugar to suit your taste. When fruit is in season you can reduce the amount of sugar.
Add more fruit if it is out of season for a stronger berry flavor.
While mixture is still in blender, taste and add more of any ingredient you feel necessary.
We tried some with banana, use only 1/2 a banana if you are using other fruit.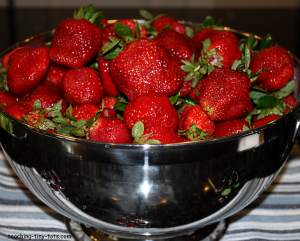 Strawberries picked fresh from a strawberry farm make the sweetest milkshakes...you can cut out most of the sugar when the berries are this sweet and flavorful.