Toddler Math: Numbers 0-10
Toddler Math: Learning numbers 0-10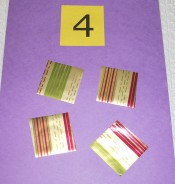 DESCRIPTION
Learning about the numbers 0 - 10 by a simple cut and paste activity. Makes a great wall display for a classroom or a cute book.
MATERIALS
Construction paper
Glue Stick or craft glue if you are using fabric, felt or foam.
Scissors
Simple shapes cut from foam, wrapping paper, construction paper, fabric or felt. Foam stickers are perfect for this activity.
STEPS
Print out the number sheet on construction paper or hand write.
Print Numbers Here
Cut numbers out and glue one on each construction paper at the top of the page.
Have basic shapes cut out of construction paper, or material of choice ready for your child to select, count and glue.
Count out the objects in a row together and have your child select how many they need.
Point to the shape and count to help build one to one correspondence.
Glue the shapes down on the page.
TIPS AND SUGGESTIONS
For younger toddlers, you might want to focus on just one page a day/week.
Using the same shape for each page may also be easier.
Help your child paste the shapes in an order that will be easy to count later. (No overlapping). You might consider gluing the shapes similar to playing cards for faster recognition.
Display completed pages or bind together to make a book.
OTHER IDEAS
Add pages up to the number 20.
Bind into a book after displaying.
EDUCATIONAL NOTE
Counting activities are very important because it helps to develop the three aspects of numbers.
Counting in a sequence out loud: 1,2,3, etc.
Understanding how much is 3 and by being able to show or give three items.
Recognizing and writing numbers.