Toddler Books: Make Your Own Touch and Feel Books
Toddler Books: Make Your Own Touch and Feel Book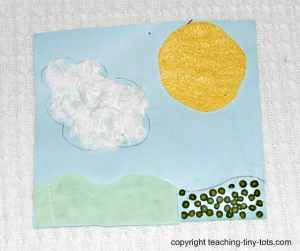 DESCRIPTION
Remember how your toddler enjoyed those books with textures? Why not make a simple one of his or her own?
MATERIALS
Cardstock or construction paper cut to size of choice
Pencil, Scissors
Glue Elmers or Aleenes Tacky for better grip
Ideas for textures:
Felt, velour, corduroy, etc.
Cotton
Dried Beans, Oatmeal
Sand
Glitter Glue
Spongy filled shapes
Foam Shapes
Small pom poms
Ribbon, yarn or string
Pipecleanrs
Foil
Saran Wrap (ocean pictures to make water)
STEPS
Draw simple picture with pencil.
Decide what textures to use and glue.
Bind Book using velobind, staple and tape or hole punch and ribbon.
TIPS AND SUGGESTIONS
If the book is for a very young toddler, make sure pieces are glued well. A craft glue will have a stronger hold.
Make sure you read with your child and discuss textures. That way you are also monitoring any pieces that get loose.
Make a page a day rather than trying to complete the book in one day!