Toddler Books: Penguin and Igloo Scene
Toddler Books: Introduce this activity with books and make this cute winter craft using plaster of paris and craft paint



Download our poems and song ideas here Penguin Poems and Songs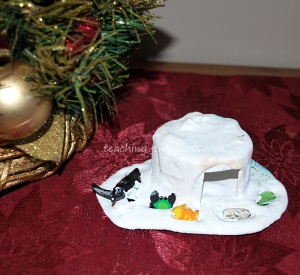 DESCRIPTION

Using a yogurt cup and plaster of paris, make an igloo and decorate with small figurines.
MATERIALS
Washed Yogurt container (We selected a brand that had a short, wide cup)
Plastic Penguin
Small plastic ocean animals or Ocean themed Erasers
2-4 Glass or plastic pebbles
Light Blue paint
Silver or White Glitter (optional)
OTHER MATERIALS
Plaster of Paris
Container and spoon to mix plaster
Paper Plate
Scissors
Newspaper to work on
STEPS
Read a book(s) about penguins or igloos. A few suggestions are Busy Penguins (A Busy Book) which is a board book great for younger toddlers and for older ones 365 Penguins. See the bottom of page for other suggestions.
Rinse yogurt cup and dry thoroughly. Cut a small square piece out of side to make entrance to igloo.
Line table with newspaper and place plate on it with all the materials you will be using prior to mixing the plaster of paris.
Adult should mix plaster out of reach of children.
After mixing plaster of Paris, pour enough plaster on plate to make a base about 5 inches x 5 inches.
Place yogurt cup upside down into plaster of paris on the plate. Press lightly.
Pour more plaster onto top of yogurt cup and let form in lumps around the back of the cup, behind the door of the igloo.
Stick in your penguin, fish, crab, pebbles and other decor of your choice.
Let dry.
Paint a small area with light blue paint. Add some glitter on the paint.
Let dry. Peel off of plate gently when completely dry to display.
TIPS AND SUGGESTIONS
Due to the powder consistency of Plaster of Paris before adding water, mix out of reach of children. You might even consider using a face mask to prevent breathing in the powder.
Consider going to the library to get more books on penguins or igloos. Find pictures on the internet too!
You can find erasers and pebbles at some Dollar Trees or at Craft Supply Stores.
We use a large 4 cup plastic measuring cup to mix plaster in which makes it easier to pour from. Older toddlers can help pour their own mixed plaster with adult monitoring.
OTHER IDEAS
Penguins In Antartica Craft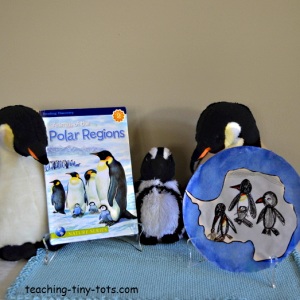 Print "Antartica" from Kiboomu's page.
Print penguins or have your child draw their own.
Paint a circle to fit "Antartica" with blue watercolors to represent the ocean.
Glue Antartica onto the ocean when dry.
Penguin Poems and Songs
Download the poems and song below and more in our link above.
Six Little Penguins
Six little penguins off an iceberg did dive, One bumped his beak, then there were five.
Five little penguins swam the ocean floor, One saw a whale, then there were four.
Four little penguins spun around, weeee! One spun off, then there were three!
Three little penguins, with nothing to do, One went fishing, then there were two.
Two little penguins, having lots of fun, One fell of, then there was one.
One little penguin, when the day was done, Went home to sleep, then there were none.
Ten Little Penguins
(sing to the tune of Ten Little Indians)
One little, two little, three little penguins,

Four little, five little, six little penguins,

Seven little, eight little, nine little penguins,

Ten little penguin chicks.