Toddler Books: Making Books With Your Child's Drawings
Making toddler books using your child's drawings is a great way to encourage them to draw as well as show them you value their work.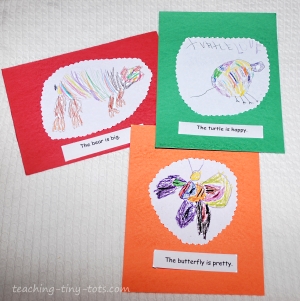 DESCRIPTION
Collections of children's drawings are always a wonderful keepsake. It is simply amazing to watch how their pictures evolve in a short period of time.
MATERIALS
White Xerox Paper for drawing the pictures
Construction paper or Cardstock
Glue Stick
Markers or Crayons
OTHER ITEMS (Optional)
Scrapbook Scissors (optional)
White Stick on Labels for easy Printing of Words
Docubind with Binding Comb or other method of binding selected
STEPS
Select drawings to be used.

With your child's assistance, arrange pictures in order to be glued on pages.

Use glue stick to adhere pictures to construction paper or cardstock.

Discuss picture with your child and come up with a simple sentence or two for each.

Bind your book.
TIPS AND SUGGESTIONS
Have the markers or crayons in a plastic container or pencil box to reinforce putting away when finished.
Select one media at a time to finish a picture at first so they become familiar what markers can do vs. crayons, colored pencils, chalk and other media.
Start collecting those scrap papers you discard from printing.
Here are pages we have been collecting to make an animal book by my twins.
The girls have always enjoyed drawing from a very young age. We read a lot of books to them and they enjoyed browsing on their own.
It really helped their drawing skills and we'd often use the very simple picture books to find photos, pictures of animals, or any object they were trying to draw.
Pointing out the shapes we saw in the pictures and the colors helped them to be able to draw independently. We often drew with them to show them how to form shapes but rarely for them.
OTHER IDEAS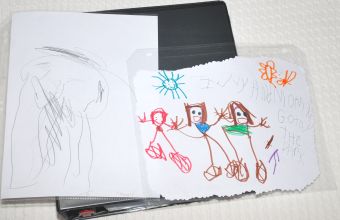 Self portrait at 2 years 11 months and then 3 years 11 months
Collect your child's pictures in a binder. Date and file. You will be amazed at the developmental growth and so will your child. While teaching Kindergarten I would collect pieces of art throughout the year and put it in a velo bound booklet to take home. The first page was a picture drawn of themselves on the first day of school. The last was a picture about themselves drawn at the end of the school year. For many, their favorite were those two pictures. It was so cute to hear their expressions of amazement of how they drew themselves at the beginning of the year!
EDUCATIONAL TIPS
Free drawing is a great way to develop fine motor skills.
Free drawing reinforces creativity and builds self confidence. Children are less inhibited about drawing if they start early. They are pleased with their results even when it's hard to determine what it is. Some children become more self concious as they get older if their drawing does not resemble what they set out to draw.
This is another great way to reinforce enjoyment of toddler books at an early age.