Toddler Books: Make Your Own Apple Picking Photo Book
Toddler Books: Visit a nearby Apple Orchard and take photos of a fieldtrip or even a family outing to make your own class photo book.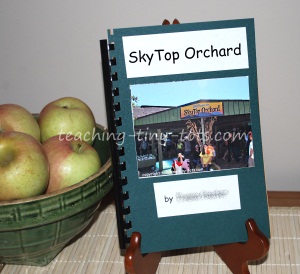 DESCRIPTION

Making photo books are a great way to remember facts about a fieldtrip and to reinforce the love of reading. Photobooks are often the favorite in the classroom. My daughters book was requested by her class to stay in the reading center!
MATERIALS
Construction paper or Cardstock
Glue Stick
Photos
OTHER ITEMS (Optional)
Materials to bind book: Stapler/book tape or Docubind or Hole Punch/Ribbon
White Stick on Labels for easy Printing of Words
Photo paper or xerox paper to print the pictures on.
Clear Contact Paper or Laminating Sheets to protect pictures.
Scrapbook Scissors (optional)
STEPS
Select and print the pictures to be used. Cut to size desired.
Cut paper to mount the pictures on.
Have your child glue the pictures onto the paper using a glue stick.
Have your child sequence the pages.
Talk about each of the pages and come up with a sentence for each. Depending on your child's ability, type, print or have your child write the corresponding sentences on paper.
Have your child match the sentence to the picture and glue it down with a glue stick.
Bind the book with a plastic book binder or staple on the edges and cover with colored tape. Or punch a few holes and weave a thin ribbon to hold it together.
TIPS AND SUGGESTIONS
Place all writing under pictures on each page to keep it uniform and easier for child to know which belongs to which picture.
EDUCATIONAL TIPS
When you share the book together, point to the word and say the name.
Make sure to praise your child for "reading" if they can tell you anything about the photo. Picture clues are an important reading strategy for toddler books.