Toddler Activities: Dainty Hearts
Toddler Activities: Make a 3-D Heart for Valentines Day to brighten up a bulletin board, hang on a door knob, or tie onto a special valentine's gift.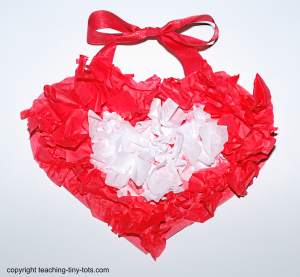 DESCRIPTION
Using just tissue and glue and construction paper, make a decorative heart to brighten up someone's day.
MATERIALS
1 piece of construction paper or cardstock (white or red)
Red and white tissue paper
Elmer's Non-Toxic Glue)
Pencil with erase (can be unsharpened for safety purposes)
Ribbon about 6" to hang heart with.
Packing tape or Tacky Craft Glue to attach ribbon securely
STEPS
Cut a heart out of the construction paper or cardstock.
Cut tissue into 1.5" squares.
Put glue in the center.
Using the pencil, place eraser in center of tissue and twist tissue a littleround the earase and press onto glue.
Repeat with red on the outside to complete heart.
Attach ribbon loop in back to hang heart with.
TIPS AND SUGGESTIONS
If child is having difficulty with the pencil eraser method, simply have them use pointer finger to wrap tissue around and place on glue.
Fold tissue up and cut with a paper cutter is much quicker and easier to measure.
OTHER IDEAS
Roll tissue into balls and glue on.
Add pink tissue.
Frame in a shadow box or send as a card.
EDUCATIONAL TIPS
Discuss heart shape and show how you fold a paper in half. If child is old enough and familiar with using sciccors, let them cut the heart out.