Toddler Activities: Christmas Cottages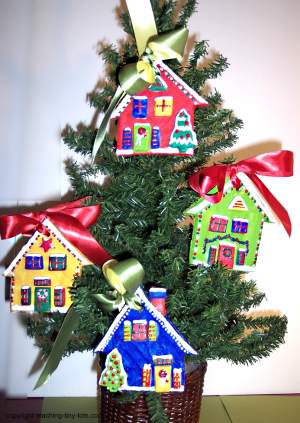 DESCRIPTION

Cute Christmas cottages you can hang as tree ornaments or give as a Christmas gift to someone special.




See here for the Salt Dough Recipe

OTHER ITEMS

See here for our free printable Christmas Cottage Template
Silver and Green Glitter
Glue for the Glitter
Water soluble non-toxic paint
White Foam or Puff Paint
Red and Green 3-D paint
Ribbon

STEPS
Make Dough as Directed in the Salt Dough Recipe link provided above.
Using the templates provided cut out the cottages.
Cut out several rectangles for the front doors, squares, triangles for windows and slim rectangles for shutters.
Cut out a skinny triangle for a tree or use small tree cookie cutter
Bake pieces as instructed.
When the dough is dried from baking, brush off excess flour and begin painting the cottage fromts and each of the small pieces.
Let the paint dry completely.
Glue on the windows, doors etc. using Elmer's white glue. Be generous with the glue, it will dry clear.
Allow to dry overnight if possible.
The next step is to paint the details on the window, doors and other areas with the white puff paint and the 3-D red and green.
Paint on the white puff paint for the snow. This was done twice to form a thicker layer of snow.

See photos for Christmas decorating ideas.
TIPS AND SUGGESTIONS
For young toddlers, just paint the doors and windows different colors so they stand out. Adult can add more details if desired.