Chinese New Year Dragon Puppet
Description
Make a colorful dragon puppet with streamers to celebrate Chinese New Year. Great classroom activity. Free printable provided.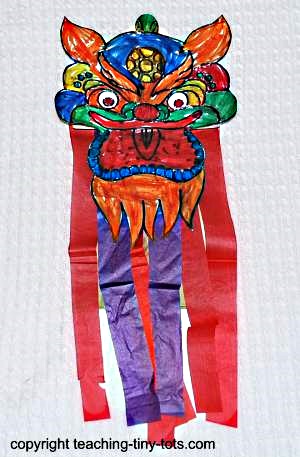 Materials
Free Printable Chinese Dragon Puppet. Print Dragon Here

Washable Markers (bright colors-red, green, yellow, blue and orange)

Lunch size Paper Bag

Elmers Glue

Scissors

Colored Tissue Paper 1 inch strips
Steps
Print out dragon head
Color with markers and cut out.
Glue to bottom of paper bag.
Glue strips of tissue under head to form streamers.
Educational Note
The Dragon parade is a special part of the Chinese New Year. The Chinese dragon is a most sacred animal and was the emblem of the Chinese emperors. Once each year, the dragon leads a parade to wish everyone peace, prosperity, and good luck. The dragon which might stretch a hundred feet long, is typically made of silk, paper, and bamboo.