Toddler Activities: Decorating Can Coozies
Toddler Activities: Personalize a Can Hug!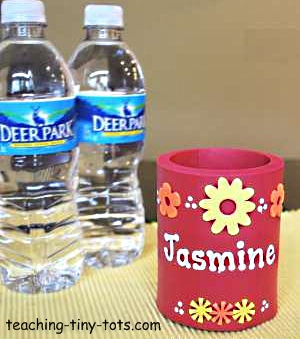 DESCRIPTION
Keep cool and hydrated this summer! A simple toddler activity to personalize a can hug and help keep your water bottle or sippy cup cool. Can Hugs are available at most craft stores.
MATERIALS
Can Hug available at most craft stores in a variety of colors
Foam Stickers (there are all kinds of themes at craft stores: letters, sports, flowers, favorite characters, holidays)
Paint Pens (Adult Use)
Glitter Glue
OTHER MATERIALS
Permanent Paint in a Squeeze bottle
STEPS
Choose a few different color can hugs to decorate. Coordinate with theme of party, holiday or a favorite color.
Select your foam stickers.
If you plan to write names, have an adult use or assist with the paint pen for proper use.
Stick on foam stickers of choice.
Add glitter glue for a little sparkle.
TIPS AND SUGGESTIONS
Can hugs can hold not only water bottles but sippy cups. When I wasn't using a cooler, I used to insert a can hug into pockets in my diaper bag to keep bottles chilled. The hugs just stayed in the pocket whenever I needed them and were not visible from outside of the bag.
EDUCATIONAL NOTE
Milk can spoil if the temperature of the milk varies too much. When there is an increase in temperature and then a rapid decrease in heat occurs, bacteria can form. If the milk gets too warm, it can spoil and actually curdle.
OTHER IDEAS