Toddler Activities: Flower Button Pins
Toddler Activities: Create a sweet button pin for someone special. Great Mother's Day gift or for your child's teacher during Teacher Appreciation Week.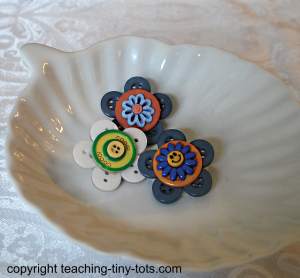 DESCRIPTION

Make cute button pins. Do some pre-math activities to make it even more engaging! Count, sort and make patterns with the buttons. Talk about colors, shades, shapes and size.

MATERIALS

Buttons of various colors and shapes. They sell mixed bags of buttons at craft stores. You can also use scrapbook buttons for the top pieces as we did.
Tacky Craft Glue (Aleene's Fast Grab Tacky Glue recommended)
Pin Back
small piece of felt
OTHER MATERIALS

Small tray or blanket to lay out buttons on
Scissors
Waxed Paper
STEPS
Select five buttons for the petals and arrange on a flat surface covered by a piece of waxed paper.
Glue together the top two buttons.
Put a drop of glue on each of the five buttons laid out for the petals as shown in picture.
Place the two glued top buttons on the "petals".
Let dry.




Cut a small piece of felt just large enough to fit over the inside of the pinback. (See photo)
Glue to pinback and then glue felt to the back of the button pin.
TIPS AND SUGGESTIONS
You will need craft glue for the buttons to hold together. I used a couple Aleene's and found the Fast Grab worked best because it is very thick.
You can use buttons with the back shank...just use a jewelry cutter and cut the loop off the back.
OTHER IDEAS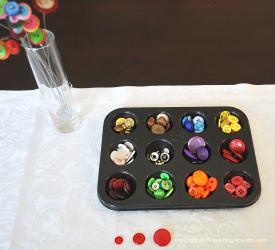 Pre Activity Games
Math Concepts
Great toddler activity for introducing a few Math Concepts in a fun way. The girls loved sorting through the buttons and one of my daughters actually sorted about 2,000 buttons into bags by size. (small, medium and large)

Numbers and Number Sense

Counting: Count how many buttons for each flower.

Patterns, Sorting and Classifying (Algebra and Functions)

Sorting Objects by Attribute (color, size or shape)Sort buttons by color in muffin tins prior to selecting for activity.
Comparing Objects (color, size, shape) Discuss the colors or shapes of the different buttons.

EDUCATIONAL TIP

Even if you choose not to do the math pre activities, use color and number words during the activity to help reinforce math concepts.