Toddler Activities: The Active Toddler
Toddler Activities for Active Children
Don't think your child is ready to sit down with a crayon? There are many other activities that can reinforce basic concepts such as color, numbers and alphabet while also enhancing gross motor skill. We have come up with a few simple games that you can do outside with few materials. Keep in mind that an activity at this age may be only 5 minutes. The amount of time will continue to increase if you are consistent with how you set up, and how often you engage in any structured activity.
Games Reinforcing Basics: Colors, Numbers, Gross Motor Skills, Concentration, Following Directions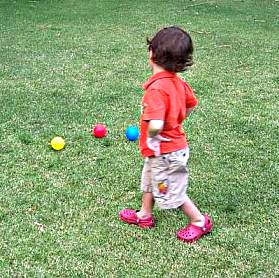 Other Engaging Activities
Singing Songs
Finger Plays and Reading Stories with Puppets
Backyard Nature Walks
Label Fun (label items around the home)
Sensory Boxes
Sand Tables
Scavenger Hunts
Bean Bag Toss with colored bean bags
Creating a Learning Environment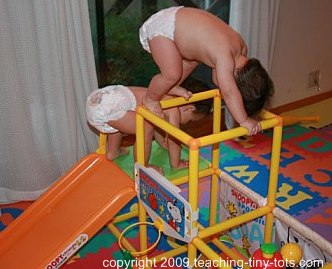 Indoor play areas with colorful Alphabet mats and lots of visual stimuli for your toddler can provide learning while playing as well. Make sure to use lots of language while they are playing which also helps build comprehension and communication. Talk about colors, numbers and shapes.