Floss Those Teeth- Kid's Oral Hygiene Craft
by CrystalC
(Ontario, Canada)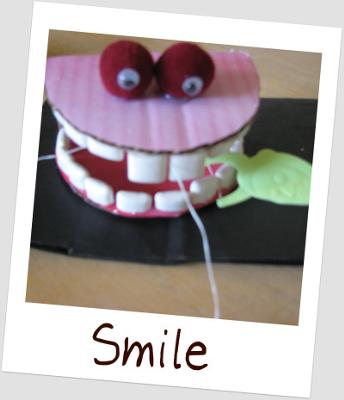 What kind of award does the dentist of the year get? ~a little plaque~ hahaha

My kids ask me over and over again why they have to brush their teeth. I explain to them over and over again the reasons why but it never seems to convince them that it's a good thing to brush and floss daily. I've even resorted to the "fear tactic" by showing them pictures of gingivitis and rotting teeth. However, kids this age don't understand the direct cause and effect of taking proper care of their teeth because cavities take time to show up. They've even witnessed my dental horror stories first hand!
I'm a really big believer in learning through play. Through trial and error my kids have taught me that I can pretty much get them to do anything if I demonstrate parental involvement and if they have fun doing it!



Supplies:


Cardboard(I found some pink cardboard at the grocery store otherwise you can color it pink to resemble lips/palate)

Gum

Red construction paper. You could also use craft foam or felt instead. This would make it more realistic looking

Hot glue gun, glue stick,

Scissors

Pom Poms and Googly Eyes

Instructions:
1. Cut a circle out of cardboard and then cut it into half to resemble two half moons. If you have a denture cup on hand (doesn't everyone keep a denture cup on hand? No! Just me) you can use this as a template!

2. Glue a piece of red construction paper (cut in the same shape) to one piece of cardboard to resemble a tongue.

3. Hot glue your pieces of gum to the top and bottom pieces of cardboard to resemble a set of teeth.
~tip~ I used two whole pieces of gum for the top front teeth then cut the remainder in half.

4. I cut a rectangular piece of cardboard that allowed me to elevate the top palate onto the the bottom palate. This creates the jaw.

5. Glue the pompoms and googly eyes on top.
Voila a set of "Kid's Style" dentures to play with!




Other Activities

Cut out smiles from magazines to cut and paste like the doggy pic above that Opal chose to cut out!

Take "before and after" pics of your child's teeth. Have your child eat something like peanut butter or you could use plaque detector pre-rinse to highlight the germs on their teeth. Snap a pic of their "yucky teeth" then have them demonstrate proper brushing and flossing. Finally, snap a pic of their clean sparkly teeth. I used the picnik website to add polaroid frames to my pics above. They look like the kind of pictures taken at a dentist office. It would be a good idea to tape the "before and after" pics to the bathroom mirror to remind your children about proper brushing.

Set up a pretend Dentist office. Your child can pretend to be the Dentist and his/her dolls and stuffed animals can be the patients. Be sure to get some stickers or printable rewards for the dolls and stuffed animals who have cavity free smiles.



*****************************************************************

Teaching children how to care for their teeth is very important to reinforce at an early age. This is a great activity to help introduce the concept of flossing.

Great ideas...thank you for sharing them with our readers!

Teaching Tiny Tots