Toddler Toys: Building with Mega Bloks
Toddler Toys: Looking for a gift or something new for your toddler? Mega Bloks are great toy to reinforce color, sorting, counting and patterns. See our activities suggested below.
DESCRIPTION
Toddler toys: children love to build and Mega Bloks are great for young builders. It's colorful pieces and easy to assemble parts make this toy a big hit. A great toy to help develop creativity while enriching critical thinking. Playing with this toy naturally reinforces Math concepts such as colors, counting and size.
TIPS AND SUGGESTIONS
There are variations of sets so do some research online to get one you feel your child will enjoy.
A great basic set is MEGA Bloks Building Imagination Bag (80 pcs)Classic
It comes in a handy carrying case, great for storing or for taking to visit family!
ACTIVITIES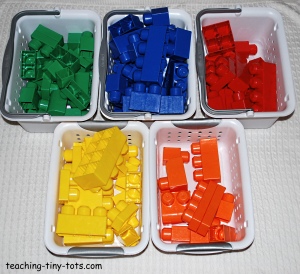 Reinforce Sorting
Sort Colors into boxes or baskets. Shoe boxes work well or baskets from WalMart like the ones shown. This is another way you can store them and can make sorting colors a "fun clean up activity".
Label each basket with the color word red and/or color a square and tape onto each basket for your child to match the color.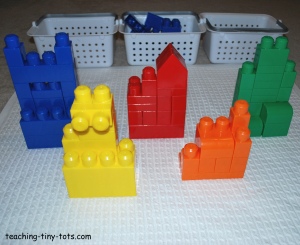 Reinforce Colors
Separate blocks by colors and build a building in each color. Reinforce color identification by asking your child to point to the red building or asking what color is each building.
Compare the size of the buildings.
Count the number of buildings
Learning about Patterns
Separate a few colors and build simple patterns such as red, blue, red, blue.
After making a pattern, have your child point and say the colors to reinforce the concept of what a pattern is.
For children just learning patterns, start a pattern of blocks for them and say the colors together and have them guess what the next color should be.
Tip
Separate the same size shapes to make it easier to see and to build the pattern.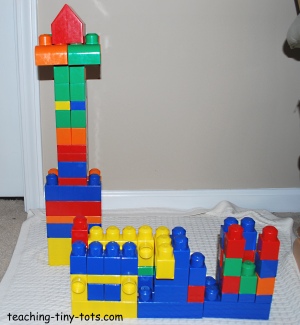 Build Tall and Wide
Discuss what is tall and what is wide. Use your arms, pictures in a book or even a tape measure to demonstrate.
Build a tall building and then a wide one.
Use other words to describe the buildings such as short, high, etc.
Compare Size
Build two buildings and ask which one is bigger, which one is shorter, which one is wider.
EDUCATIONAL TIPS
Use lots of descriptive words when playing with toddler toys to reinforce colors and size, numbers and other math concepts naturally.
MATH CONCEPTS
Numbers and Number Sense
Counting: How many buildings or blocks.
Represent (How many is three?) Ask your child to hand you two blocks, or two blue blocks.
Quantity (More, Less, Equal) Which pile has more, less.
Patterns, Sorting and Classifying (Algebra and Functions)
Sorting Objects by Attribute (color, size or shape)
Comparing Objects (color, size, shape)
Simple Patterns