Toddler Toys: Foam Puzzle Mat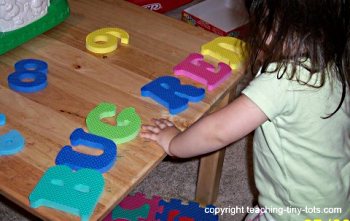 Foam Alphabet and Numbers
DESCRIPTION

Toddler Toys: ABC and number Foam Puzzles are great for introducing the alphabet, beginning spelling and other alphabet activities. They are a fun way to introduce numbers and counting. They are also great for making a softer play surface when interlocked into a mat.

TIPS AND SUGGESTIONS

These puzzle mats come in various sizes. A good size has squares about 6.5". Examine the individual squares carefully. Some sets have smaller pieces than others. Find one with fewer small pieces that won't affect the recognition of the letter or number if you were to toss the small pieces out. They will put it in their mouth. I would recommend throwing out any potentially hazardous pieces like the piece in the middle of the top of the A.

Here is a link to

check for current recalls

ACTIVITIES

Colors: Finding all the like color pieces.
Letter and Number Recognition: They do have animal ones as well but usually the pieces are smaller and are better for older toddlers who are out of the "put everything in mouth" phase.
Alphabet and Number Train: Make an alphabet or number train together.
Number Train: Make an number train together.
Cube: Interlock the pieces to form a cube and have your child find a particular letter or number. Roll the cube and see if your child can identify the letter or number on the top.
Learning Letters: Trace a letter on a sheet of paper.
Building Words: Make short words. Sound out letters to make a word like cat and have your child find the letter.
Name Practice: Select the letters of your child's name. Practice the letters and sounds and practice putting the letters in order.

TIPS AND SUGGESTIONS

When we put the foam letters/numbers away we connected them in sets of four. It stored easier and kept pieces from getting lost. It really helped reinforce the concept of how many is four.

EDUCATIONAL BENEFITS

Child assigns meaning and importance to letters and numbers in context rather than abstract.
Great opportunity to learn letter names, sounds, and order of alphabet, numbers, sequence in a very hands on way with toddler toys they enjoy.

Books are another way to introduce alphabet activities.