Toddler Toys: Foam Bath Letters
Foam Alphabet and Numbers for the Tub...a great play and learn activity!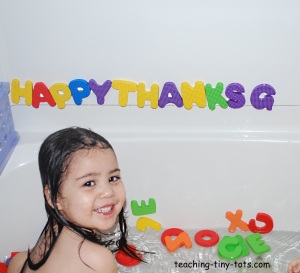 DESCRIPTION
Toddler Toys: ABC and number Foam Tub Toys are great for introducing the alphabet, beginning spelling and other alphabet activities. They are a fun way to introduce numbers and counting.
TIPS AND SUGGESTIONS
There are various brands. We like Rub A Dub Abc & 123
because it has two sets of letters and one set of numbers.
ACTIVITIES
Identifying colors: Put all the like color pieces on the tub wall.
Recognition of letters: Find a letter floating in the tub. For young toddlers separate the letters from the numbers and select just a few letters and put it in the tub.
Alphabet or Number Train: Make an alphabet or number train on the tub wall.
Letter Sounds: See if your child can find the letter by giving them the sound.
Name: Put only the letters of their name in the tub and practice spelling it correctly on the wall.
Number Identification: Put only the numbers in the tub and see if your child can find a number you ask for. Later they can build larger numbers like 10, 15, etc.
EDUCATIONAL BENEFITS
Child assigns meaning and importance to letters and numbers in context rather than abstract.
Great opportunity to learn letter names, sounds, and order of alphabet, numbers, sequence in a very hands on way.
Other bath tub toy favorites also made by Alex:
The first are the letters mentioned above with two sets of the alphabet and one of the numbers.
The squirting toys are fun but you have to squeeze ALL the water out...and I would recommend changing every few months.
My girls have always enjoyed ducks, all colors and all sizes.
The bath and tub city have pieces that can be built on a foam platform or as my girls like to do, you can also stick them on the tub wall. They like playing with the people like puppets.