Toddler Science: Plant an Herb Garden
Toddler Science: Planting an Herb or Fruit Garden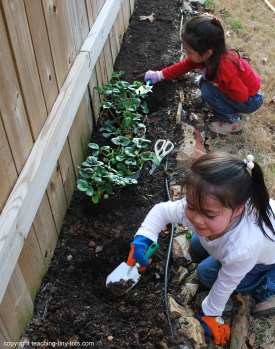 DESCRIPTION
Planting is a great toddler science activity that introduces many science concepts naturally.
MATERIALS
Children's Gloves, Small Shovel
Vegetable and Flower Soil
Choice of Plants
Small watering can
Craft Sticks
Bucket
STEPS
Go online and find a simple garden design or a list of herbs you would like to plant. Print out or sketch a copy so you can determine how many of each plant to purchase.
Select the area you want to plant the herbs.
Print out pictures of the herbs you are going to buy and label them so your child can help identify them at the nursery. If your toddler is very young you can find the plant and show the picture and ask if it matches.
Prepare the area to be planted prior to having your child assist.
Write the names of the herbs to be planted on each craft stick or keep the little tag that comes with each plant.
Many of the bagged soils contain fertilizers in them so it's important to have your child wear gloves and covered shoes for protection.
Refer to your garden map and line up plants approximately where they will go. Great directional activity. I directed the girls to place them on the right or left or a certain plant.




Show your child how to use the shovel and have your child dig a hole for the plant. They will probably be able to dig only about half of the hole unless you have very loose, nice soil.
Have your child smell the fragrance from each herb. Compare the strength of one versus another. Ex. Rosemary vs. Sage
Have Soil ready in bucket for your child to place around the plant
Place name marker in soil by plant.
Water as recommended.
Wash hands thoroughly!
TIPS AND SUGGESTIONS
Prepare the area to be planted prior to the actual activity or you will find they will be tired before you even begin!
Buy a plant book so you can discuss what plants require (water, sunlight, and oxygen)
OTHER IDEAS
Fruits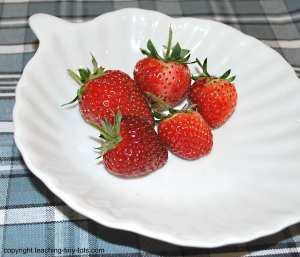 Strawberries
We added four strawberry plants, two different varieties. Within a week we had a couple small strawberries. As the season has progressed the strawberries are starting to grow bigger and more plentiful!!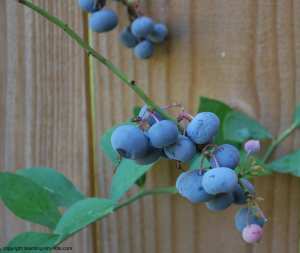 Blueberries
We planted a couple blueberry bushes. We did a little research and found out it was important to plant two different varieties so it can cross pollinate. It normally takes two years before you get berries so it was a neat surprise to see berries forming, growing and turning blue! After washing and cutting one open, we compared it to store bought blueberries and it looked identical so we took a taste test...it was sweet!
First Time Gardener?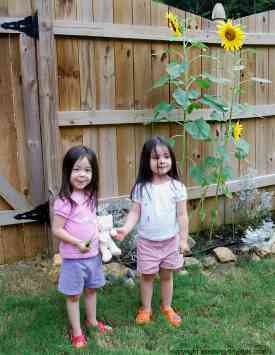 Sunflowers are great for first time gardeners. They are big seeds which make it easy to handle and they grow very fast with a stunning flower! Out of the 4 seeds that we planted, three grew. Be sure to read on the back of the package for the description. I was amazed to find that the different varieties varied greatly in height. We chose the 6-8 foot tall variety.
No Garden? How About Some Tabletop Plants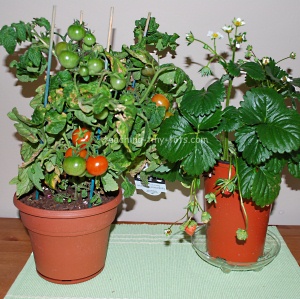 If you don't have a garden you could get a tabletop plant like these tomatoes and strawberries. These are easy to maintain and great for toddler science activities like observing, counting and graphing.
The girls enjoyed picking them as they ripened and learned how to make a tally graph to count how many we had in all.
EDUCATIONAL TIPS
Show your bottled spices next to the plants you purchase. Point out the fresh herbs at the grocery store.
Give examples of some of their favorite foods that have spices in them. For example: Pizza sauce has oregano
SCIENTIFIC PROCESSES USED
Toddler Science Concepts
Observation
Seeing the plants.
Feeling the soil and plants
Smelling the different herbs.
Communication
Silent Showing how to dig a hole by demonstrating
Oral Lots of verbal discussion when purchasing plants, learning about the different types and giving directions
Pictorial Pictures of your garden plant and plants
Comparing
Measuring the area to be planted
Sensory Comparisons Comparing the different scents and leaves
Quantity Comparison How many of each plant purchased or how many in all
Organizing
Grouping by different types to be planted together
Classifying Learning about herbs as a type of plant