Toddler Recipes: Smores
Toddler Recipes: Easy Chocolate Syrup Smores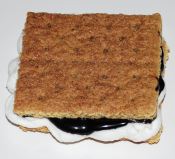 DESCRIPTION
Your toddler will love this one! A fun treat they can help make! Easy special lunchbox treat or party dessert.
INGREDIENTS
1 whole graham cracker
1 large marshmallow or 12 small marshmallows
1 tsp hot fudge saurce
STEPS
Break graham cracker in half to make a square.
Place one half on small paper plate or microwavable plate, top with a marshmallow.
Spread remaining half of cracker with hot fudge sauce.
Place cracker with marshmallow in microwave. Microwave for 12-14 seconds or until marshmallow puffs up.
Immediately place remaining cracker, fudge side down, over marshmallow. Press crackers gently together.
Cool completely.
TIPS AND SUGGESTIONS
Be sure to adjust timing to your individual microwave so as not to over heat the marshmallow.
Make the evening before for a lunchbox treat. Wrap in plastic wrap and ziplock and store at room temperature.