Toddler Math: Fun With Beads
Toddler Math: Using Beads to Sort, Count, and Make Patterns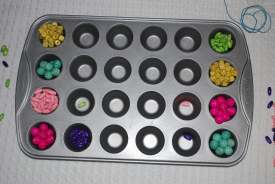 DESCRIPTION
A simple activity to reinforce the understanding of counting, recognizing numbers and number representation. Helps to develop Patterning Skills. Great Math activity for girls and boys alike. I used this as a classroom activity near Mother's Day.
MATERIALS
Large wooden beads.
Beading String
Muffin Tin
STEPS
Sort beads by color.
Choose a few colors and count by laying out in a row.
Discuss size, color, patterns.
Lay out in a pattern. Start with simple patterns like ABABAB then ABCABC. Then if your child is able to predict the next color correctly you might try to form a more complex pattern.
String onto bead string and tie into bracelet or necklace in a pattern or beads of choice.
TIPS AND SUGGESTIONS
For more Math Concept activities see below.
The girls started early with stringing activities like large lacing cards and a large wooden shapes you could string on thick string. I need to look up the name of that toy. The pieces were about 1 1/2 x 1 inches long.
MATH CONCEPTS
Numbers and Number Sense
Counting: Practicing counting how many of one color.
Represent (How many is two,three, etc?) Ask your child to give you two beads.
Quantity (More, Less, Equal): Make two piles and ask which one has more or less.
Patterns, Sorting and Classifying (Algebra and Functions)
Sorting Objects by Attribute (color, size or shape): Sorting by color in muffin tins
Comparing Objects (color, size, shape): Compare two and discuss which is bigger, smaller, darker in color
Simple Patterns: Laying beads out in a row in simple patterns and identifying the next bead.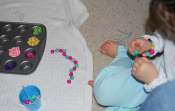 OTHER IDEAS
Make Bracelets and Necklaces as the Culminating Activity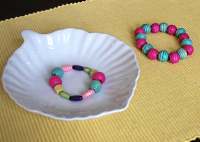 After the mini-math lesson I let the girls make a few bracelets. I let them string it with their choice of beads. They of their own choice made one with a pattern and one without.

These are the two patterned ones. One is a pattern with 5 different beads repeated.



EDUCATIONAL NOTE
The reason counting activities are very important is because it helps to develop the three aspects of numbers.
Counting in a sequence out loud: 1,2,3, etc.
Understanding how much is 3 and being able to show or give three items.
Recognizing and writing numbers.
Stringing beads is not only a great toddler math activity but it helps to develop fine motor skills as well.