Toddler Math: Guessing Jar
Toddler Math: Make a Guessing Jar to Reinforce Numbers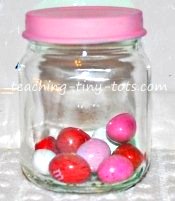 DESCRIPTION
Great hands on Toddler Math activity that will help your child learn to estimate and practice counting in a fun kids math game. Fill your Guessing Jar with m and m's, conversation hearts and other small items and have your child estimate, count and even record how many are in there.
MATERIALS
Baby food jar or small jar
Paint/brush
Paint pen (optional)
STEPS
Paint the cover of the jar to give it some color.
Write or decorate lid with paint pen. (optional)
Keep the glass clear so it is easy to see inside.
Fill your jar with 1-10 objects for beginning counters.
Have your toddler guess how many are inside. Be sure to monitor if you let your child touch the bottle or use a clear plastic one.
If you are interested in introducing graphing print Guessing Jar Graph
When your toddler has estimated how many items she or he thinks there is, write the number down on a piece of paper, and then open jar and count the objects by lining them up on a dish or paper towel.
Point and count to help build one to one correspondence.
TIPS AND SUGGESTIONS
For older toddlers, you can slowly add more items. 1-20 or the number they are able to count up to.
For classrooms it can be a weekly or monthly activity or even holiday oriented. Put red and green candies for Christmas, Conversation Hearts for Valentines, etc.
For older children you may want to use a larger jar to make it more challenging
Have children make a prediction class or small group graph and then count the actual number at the end of the week or month. Remember no estimation is wrong but you can praise them when they make a "close estimate".
Graph different guessing jar amounts and compare which one had more or less.
MATH CONCEPTS
Numbers and Number Sense
Counting
Recognize (Read) Numbers
Represent (How many is three?)
Quantity (More, Less, Equal)
Graphing (Statistics, Data Analysis, and Probability)
Data Gathering (Collecting information about objects by drawing pictures or making picture graphs)
OTHER IDEAS
Print two graphs and make one a prediction graph and one an actual graph.
Guessing Jar Items
Edible Items
M and M's (seasonal for holiday months: red, white and pink for Valentines Day)
Peanut M and M's (seasonal colors available)
Gumballs
Red Hots
Gumdrops
Lemon Drops
Skittles
Valentine's Day: Conversation Hearts
St. Patrick's Day: Green M and M's
Easter: Jelly Beans, Jelly Bellies
Christmas: Peppermint Candies
Non-Edible Items
Dried Beans
Marbles
Beads
Buttons
Pasta (colored or plain)
Shells
Smooth Pebbles (Arts and Crafts stores have these)
Pom Poms
Cotton Balls
Math Counters (teddy bears, etc)
EDUCATIONAL NOTE
The reason counting activities are very important is because it helps to develop the three aspects of numbers.
Counting in a sequence out loud: 1,2,3, etc.
Understanding how much is 3 and being able to show or give three items.
Recognizing and writing numbers.
Counting Resources for Toddler Math Activities: