Toddler Activities: Water Globe
Toddler Activities: Make a glitter globe or a snow globe! Cute idea for a kids party or a holiday craft.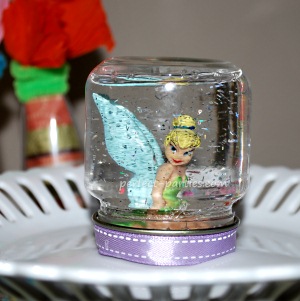 DESCRIPTION

Match it to the theme of your party or make one for a special holiday by changing the figurine.

MATERIALS


Baby Food jar or other small jar with label removed
Plastic figurines (cupcake toppers, plastic animals)
Low Temperature Glue Gun or use a sealant like E6000 Multi-Purpose Adhesive
for a stronger hold. (Adult Use Only)
Glitter
Felt, lace or ribbon to decorate base and cover the lid.
Distilled Water
OTHER MATERIALS
Paper towels
STEPS
With a glue gun, adhere plastic figurine onto the inside of the baby food jar cover. for a stronger, longer lasting bond use a sealant like E-6000. (Adult step)
Fill baby jar with distilled water almost to the top and add about a 1/2 teaspoon of glitter.
Dry outside of glass rim. Put sealant around the outside of the rim of the jar for a tighter seal and screw on lid evenly.
Glue on lace, felt or strip of ribbon with glue gun or craft glue like fabri-tac around the lid to decorate.
TIPS AND SUGGESTIONS
A glue gun is a fast way to adhere figurine but is not a permanent seal. Figurines may get loose after a period of time.
For best seal and for gluing figurine securely, use a sealant found at crafts stores. Ask which type is best for glass and water. Be sure to read ALL precautions prior to using. Adult step only
Plastic cupcake toppers make perfect objects. Find one for the theme of your party or holiday.
Goo Gone works well if there is any sticky residue from the label on the baby jar.
Test different types of glitter to see what floats or sinks.
For winter or Christmas globes, use white glitter.
We used some scrap booking glitter hearts and some fine silver glitter.
OTHER IDEAS
For Birthday Parties or Classroom
After doing the activity with the girls, here are my recommendations.
Have all bottles cleaned and ready to fill with water
Glue figurine ahead of time to the inside lid of jar. Make extra if there are different figures so children can select the one they like.
Have ribbon cut to desired length. Various colors, designs are nice for them to select from.
Have glitter measured out in small containers (such as applesauce containers) ready to pour into water for younger children.
Fill a measuring cup with lip with the distilled water for easier pouring and less spilling.