Toddler Activities: Valentine's Day Salt Dough Ornaments
Toddler Activities: Salt Dough Ornaments for Valentines Day. Make beautiful heart shaped ornaments to give as a gift or to display.
DESCRIPTION
This is a wonderful toddler activity. Salt dough is easy to work with and children enjoy the way it feels. Your children will be very proud of their heart ornaments.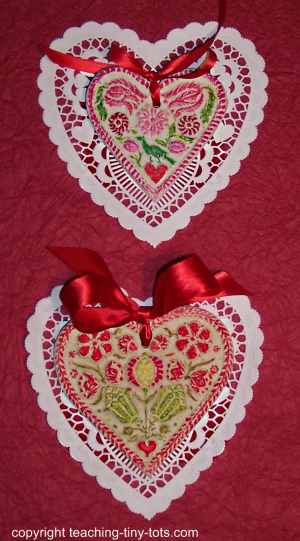 INGREDIENTS
1 cup salt
2 cups all purpose flour
1 teaspoon Alum (optional)
3/4 cup cold tap water
Heart Shaped Cookie Molds
Red and Green Crayons
MATERIALS
Medium Bowl
Rolling Pin
Straw to make hole in ornament
Floured surface to work on
Generously floured cookie sheet to bake cookies on
Ribbon to attach to ornament so it can be hung or tied to gift
Doilies (optional)
STEPS
In a medium bowl, place all dry ingredients, and mix to blend dry ingredients thoroughly.

If the dough is sticky add more flour and if it is too dry add a little more water. The dough should be nice and smooth and will not separate when it is kneaded properly.

Roll out a quarter of the dough on a floured surface. Roll the dough as close to 1/4 inch as possible.

Cut with a cookie cutter and while the cookie cutter is in place, use a straw to punch a hole in the cookie so you can later attach a ribbon.

Prepare cookie sheet with a generous layer of flour

Place the cookies on the floured baking sheet and bake in warm oven below 200 degrees, most ovens have a warm setting for 2 to 3 hours. (Parent step only!)

Remove from oven, turn over and return to oven. Repeat at least 3 times.

Turn off oven and let cookies remain inside until cool

After the cookies are dry, brush off excess flour and

Tie with ribbon.
This baking process allows the cookies to dry slowly, if the oven is too hot they will start to brown and salt dough should be as white as possible for the prettiest results.
TIPS AND SUGGESTIONS
This toddler activity is best done in two days. The first day make the dough, cut it out and bake. On the second day decorate and display.
Don't make the dough in advance or use leftover dough.
Alum is optional. Alum is an astringent that aids in binding the ingredients.
Cookies larger that 2 1/4 inches may not dry flat. If you are experiencing this, allow the cookies to dry at room temperature for 24 hours on a floured cookie sheet, then continue to dry out in warm oven. Most average size cookies are dry in 24 hours.
OTHER IDEAS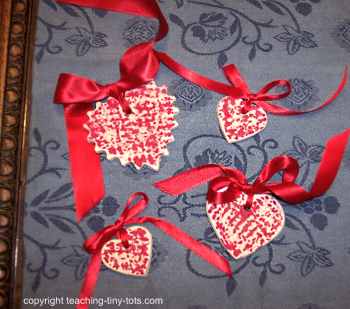 1. Non-Toxic Water Based Red Paint
Place a small amount of red paint in a jar lid or disposable plate and slowly add a few drops of water at the time to dilute the paint. Stir and apply paint with a toothbrush. The paint should be red but if you add too much water the colour will be pink. Adjust by adding a little more paint. Use a paper towel to remove excess paint from the toothbrush then dab the top of the cookie. The drying time is about 30 minutes. Then tie on the ribbons and display.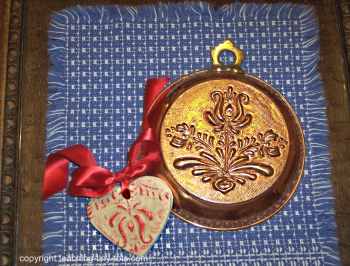 2. Copper Molds and Red Crayons
This is a cookie made from a copper mold commonly found in many kitchens. Make a ball of dough about the size of a golf ball press on to some flour then roll it out until it is about 3/4" thick Flour the bottom of the mold and pat the dough into the design. Patting and pushing the dough is fun for children but they will need a little help to ease the dough out on to a floured surface. Next, cut with heart shaped cookie cutters. Molds like this one make beautiful surface designs and are easy to decorate. Rub the top of each cookie with crayons of red shades and the relief portion of the cookie picks up the crayon and the motifs begins to show. These are a lot of fun for children and adults alike because they are not difficult to make and turn out great results.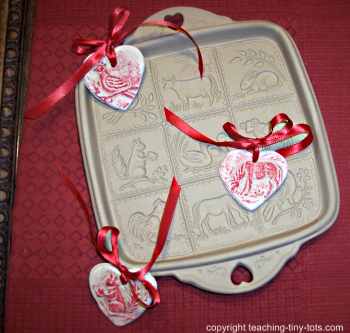 3. Cookie Molds and Crayons
This mold is a Brown Bag Cookie Art mold that uses Barnyard Animals as the theme. This mold requires the same technique as used in # 3. Make sure the bottom of the dough is dry with flour as well as the mold. The dough will come out much easier this way. Begin making cookies one motif at the time and help with the easing of the dough out of the mold. Cut with cookie cutters, make a hole with a straw in the top of the cookie to hang as an ornament later. These cookies are easy to make and so much fun to colour.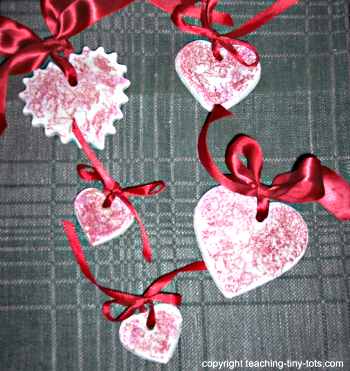 EDUCATIONAL TIPS
Write or Print out the recipe for your toddler to follow along.
Promotes and develops sequencing skills.
Toddler activities like this naturally lends itself to reinforcing the color red, understanding that there are different shades of red and teaching the heart shape.
Another benefit is helping to build fine motor skills.
FEATURED DESIGNS
Some of the designs created were using cookie molds from House on the Hill who have a beautiful selection.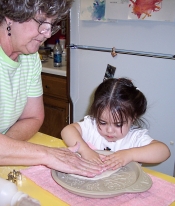 Special thanks to "magra" for making this toddler activity possible!