Toddler Activities: Christmas Stained Glass Picture
Toddler Activities: A beautiful Christmas picture to display. The colors look vibrant so any combination of colors is pretty!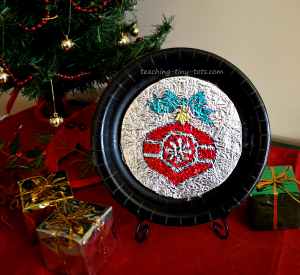 DESCRIPTION
This is one of those toddler activities that you can adjust to accommodate a wide range of ages from four to ten year olds.
MATERIALS
Design printed on white paper. See below for Christmas printables designs or find various free Christmas coloring printables online.
Saran Wrap
Foil
2 Colored Plates per project
Sharpie Pens in various color (washable won't work)
Scotch Tape or Masking Tape
Packing Tape to Secure Project to Plate (frame)
Clipboard or Piece of Cardboard to work on
Ribbon to Hang Project
Scissors
STEPS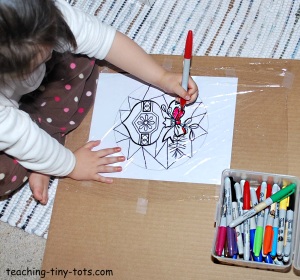 Tape Selected picture to cardboard or clipboard and secure a piece of Saran Wrap over it with masking tape or scotch tape. Make sure the Saran Wrap is centered over the design.
Using a black sharpie, trace all the lines of the design.
Use other sharpie to color the design.
Cut out a circle (center) of one of the paper plates. Most have a line you can follow.
Tear a piece of foil large enough to cover entire circle and very lightly, crinkle the foil and then open your piece of foil and lay flat. Foil should have small creases all over.
Fold foil over cardboard circle, pulling it firmly but carefully so it retains a nice circular shape.
Take completed colored Saran Wrap design carefully so as to keep it from folding, and wrap gently but firmly over the foil circle. Use the tape to secure on the back.
Secure with packing tape to inside of colored plate.
If you want to hang this, make a hole punch at the top and tie ribbon.
TIPS AND SUGGESTIONS

Washable colors will not work. I've found sharpie pens which now come in many colors work the best.
Remind your child to color lightly, don't scrub the saran wrap with the pen or it will tear.
Leaving a few spaces blank without color has a neat effect too.
I found that black plates really makes the colors stand out. Walmart, Dollar Tree and party supply stores have plates in various colors.
Adjust the project to your child's age. The project shown is done by a 4 year old but I have also done this with 4th graders. You can get a easier pattern for younger children and vice versa. For toddlers, trace the black lines for them, and have them color inside of the black lines.
Below are two printable patterns. Another option is to find a printable picture of your choice and size it to the plate using a printer.

Print Christmas Tree Pattern Here