Toddler Activities: Easter Pin
Toddler Activities: Make Cute Easter or Spring Pins



***y-t3-block-ad-center.shtml***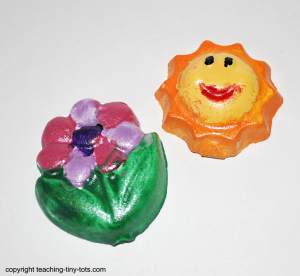 DESCRIPTION
A cute Easter gift or Spring Pin.
MATERIALS
Plaster of Paris
Wilton Candy Mold or similar
Tempera, Acrylic Paint, or Ceramcoat
Pin Back with Latch
Craft Glue
OTHER MATERIALS
Container to mix plaster and plastic spoon.
Small piece of sandpaper (fine grade)
Acrylic Spray (optional)
STEPS
Mix plaster in container according to directions.
Fill heart mold with plaster. Make it level using plastic knife and tap mold gently on surface to eliminate bubbles.
Let dry about an hour or according to directions and pop out of the mold.
Let fully dry for several hours. Sand rough edges gently.
Paint and let dry.
Decorate (see ideas below)
Glue pin to the back unless you pressed into the plaster while drying.
Spray with acrylic spray for extra shine.
DECORATION IDEAS
PAINT A SOLID COLOR: For young toddlers, paint a solid color and adult spray with acrylic spray to make it shiny.
ADD GLITZ: Put a dab of glitter glue on surface and spread with paint brush.
MAKE DESIGNS: Use a Q-tip to make spots or stripes or paint small areas.
TIPS AND SUGGESTIONS
While plaster is wet you can press pin back gently into the back of the mold.
OTHER IDEAS
Attach a magnet to the back and make a cute refrigerator set as a gift.
Dress up an Easter basket with a few of these.
Make Pins for Other Holidays or Special Occastions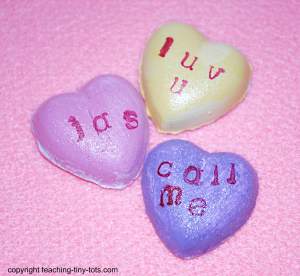 Click here to see how to make our
Conversation Heart Pins or Decor
Conversation hearts make fun pins, cool magnets or even a cute "candy display".