Toddler Activities: Seashells in a Wall Hanging
Toddler Activities: Make a Pretty Seashell Wall Hanging or Display with Plaster of Paris. An activity even younger toddlers can enjoy.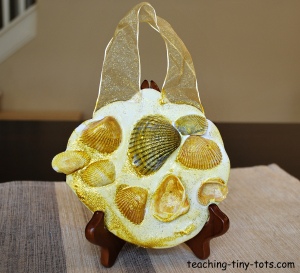 DESCRIPTION
Collect seashells from a summer trip to the beach or purchase form a craft store and create a simple but pretty decoration.
MATERIALS
Paper Plate
Plaster of Paris
Various Shells
Light, sheer colored acrylic paint like Ceramcoat
Paintbrush
Ribbon
OTHER MATERIALS
Measuring cup
Plastic container for mixing
Spoon for stirring
Scissors
STEPS
Mix plaster as directed so that you have about a cup of mixed plaster.
Select your shells and lay plate, shells on newspaper.
If you plan to use ribbon to hang, place ribbon on plate in a loop.
Pour plaster onto plate (pours like pancake mix)into a rough circular shape.
Gently press shells into plaster, keeping tops showing. Vary depth for interest or turn a couple shells over.
Let dry and brush lightly with paint.
Select an iridescent or glitter paint for extra sparkle.
Display by hanging when dry or if without a ribbon use a small stand.
TIPS AND SUGGESTIONS
Since many of us bought those face masks in anticipation of the swine flu...you might want to wear one while mixing up the plaster. Keep this part of the activity away from all children to reduce inhaling any of the powder.
OTHER IDEAS
Turtle Scene
A plastic Easter shell and a pom pom makes this simply cute turtle. Add a few silk flowers and leave and you have a turtle scene.
Penguin Fun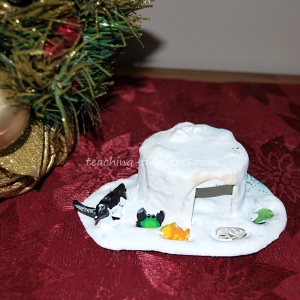 A yogurt makes a perfect igloo along with a penguin figuring and some sea creature mini erasers. Embellished with a few glass pebbles and some light blue paint with sparkles to give the illusion of water.
See above for directions and tips