Toddler Activities: 4th of July Picture Using Foam Star Stickers
Toddler Activities: Patriotic Pictures Using Foam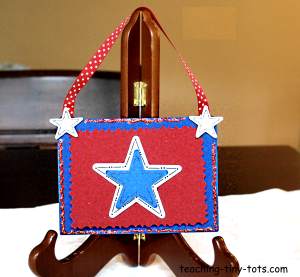 DESCRIPTION
Here is a toddler activity using red, white and blue foam to make a cute hang up. Easy classroom craft! Add a child photo in the center star to personalize it.
MATERIALS
Red, White and Blue sheet of foam.
Foam Stars (There are pre-cut foam stars or make your own.
Craft Glue
Glitter Glue
Craft Scissors
Ribbon about 6 inches long
OTHER MATERIALS
Scissors
STEPS
Choose which two colors will be your background and cut into rectangle about 4 x 6 inches.
On the back of one of the foam rectangles using a ruler, draw a line about 1/2 inch in on all four sides.
With assistance, have your child cut on this line with craft scissors.
Glue the smaller foam rectangle onto the larger one.
Decorate with different size stars.
Use glitter glue to add sparkle.
Glue the ribbon in the back to allow hanging.
Let dry completely before handling. You can also staple for stronger hold and cover with a star.
TIPS AND SUGGESTIONS

Some foam comes in stick on sheets and items like stars. The stick on stars we used made it easy to organize the activity and easy for the girls to stick on.
Add a photo to the center star to personalize.
Make 3 different pictures, rotating the colors and frame to make a series to hang.

EDUCATIONAL NOTE

In the United States Independence Day, often called the Fourth of July, is a federal holiday commemorating the adoption of the Declaration of Independence on July 4, 1776. Many people celebrate Independence Day by sending off fireworks, attending parades, having barbecues or holding picnics.

A great way to introduce an activity is to find a book about the topic.