Toddler Activities: I Love Mom Keychain or Purse Charm
Toddler Activities: Need a gift for mom? Here is one that mom can use as a keychain or display on her purse as a charm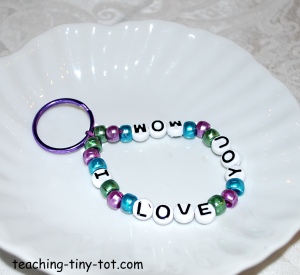 DESCRIPTION

A message that says it all..."I Love You Mom". Make a keychain or purse charm.

MATERIALS

Bead String about 12" long
Letter Beads and Pony Beads
Key Ring, or Snap ring (I found a colorful pack at WalMart)
OTHER MATERIALS

Small tray or blanket to lay out beads on
Scissors
Craft Glue (optional for securing knot)
STEPS
Have your child line up beads in order to be strung. You can write the message on a paper and match the letters.
Tie a slip knot at one end or tie around a bead to keep others from slipping off.
String the beads.
Tie a double knot and put a drop of glue to make extra secure.
Tie onto clip or ring of your choice
TIPS AND SUGGESTIONS
Write your message with extra space between words so you have room to line up beads to be placed between the words. Read the words together and identify each letter.
OTHER IDEAS
Add Charms
Add charms to the keychain/clip.




EDUCATIONAL NOTE

Mother's Day is relatively modern, and has been celebrated from about the start of the 20th century. In countries other than the United States, mother's day is also celebrated however, it may be on a different day because of the different origins. In the UK it is called Mothering Sunday and some countries refer to is as International Women's Day. If you have a special note on Mother's Day, please feel free to share it with us! We love to learn new things.