Toddler Activities: Love Bug Magnet
Toddler Activities: Make a Love Bug Magnet or Pin. Cute gift for your child's teacher!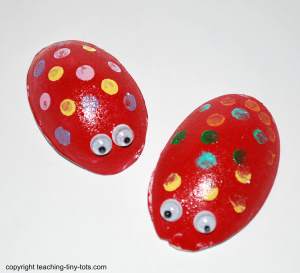 DESCRIPTION
A cute magnet or pin! A great Valentine's gift...also an easy and inexpensive classroom project.
MATERIALS
Plaster of Paris
Round Plastic Candy Mold or Plastic Spoons, Plastic Knife
Non Toxic Craft Glue
Wiggly Eyes
Tempera Paint and Paint Brush(es)
1" Self Adhesive Magnet Strip or Pin Back
Craft Glue
Acrylic Spray
OTHER MATERIALS
Small container and plastic disposable spoon to mix plaster
Newspaper to work on.
Plate or plastic pallette for paint
Q-tip for painting spots
STEPS
Mix Your plaster according to directions on container.
Fill mold or spoons till level. Tap gently to release any air bubbles and use knife to flatten surface.
Wait one hour and pop out the shapes.
Let dry fully on the newspaper for a few hours.
Paint as desired and let dry.
Glue on Wiggly Eyes.
Adhere magnet strip or glue pin to the back.
TIPS AND SUGGESTIONS
If you choose to make a pin, you can press the pin into the plaster after a minute if you prefer to adhere it this way.
Unused baby spoons work nicely too. Some are flexible and deeper which give a nice rounded back to your lovebug.
If you have some of those containers with foam sticker shapes you are likely to have some very tiny pieces. If you stick them on the end of a stamp, piece of wood or any small firm item it woks well as a stamp.
OTHER IDEAS
Glue sequins or flat back jewels to make "spots" on your lovebug.
Wrap Pin in tissue printed with Foam Hearts and tempera.