Toddler Activities: Decorate a Tote Bag
DESCRIPTION
A great bag to go trick or treat with and carry home any party prizes or goodies
MATERIALS
Tote Bag (found at most craft stores like Michaels)
Foam Shapes and Foam Stickers
Wiggly Eyes
Fabri Tac or Tacky Glue
OTHER MATERIALS
Newspaper to work on
STEPS
Select foam shapes and stickers to be used
Arrange on bag and glue down.
Lay flat to dry
TIPS AND SUGGESTIONS
Great Party Activity! Children can take their goodies home in their own handmade bag and use to trick or treat. Use as a grocery bag after Halloween!
OTHER IDEAS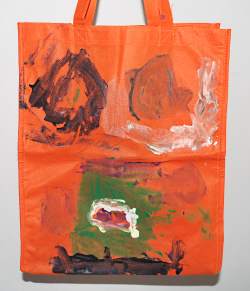 Painting
Materials
Foam Brush applicator or Paint brush(es)
Paper Plate, or Plastic Palette for Paint
Tempera (great for toddlers) or Fabric Paint in black, orange, white, green and purple
Steps
Discuss the colors to be used, how to apply paint with brush and where and how paint on bag.
Put paint on palette. Have brush and water ready.
Design one side of bag and let it dry. Dry flat.
Cube Stamps or Stencils

Instructions Here for Using Cube Stamps
Cube Stampers which are found at most craft stores. Some stamps are seasonal so shop early. Halloween Stencils: Make your own or find some sets of Seasonal Stencils at Education Stores
EDUCATIONAL BENEFITS
Helps develop fine motor skills.
Reinforce color identification