Toddler Activities: Firework Safety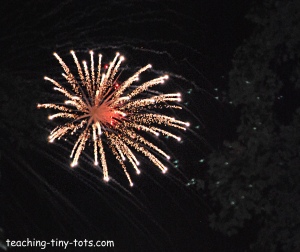 Fireworks
The lighting or handling of fireworks are not safe toddler activities under any condition. Young toddlers simply don't understand the danger involved and cannot act appropriately in case of an emergency.

It has become tradition to celebrate New Years and the Fourth of July with the lighting of fireworks. While fireworks can be fun and beautiful, it can easily turn into a unplanned trip to the emergency room when children and adults are injured. Even the more seemingly safe fireworks such as "sparklers," have caused severe burns and eye injuries with children.

CPSC estimates that in 2007 about 9,800 people were treated in hospital emergency rooms for injuries associated with fireworks. More than half the injuries were burns and most of the injuries involved the hands, eyes, and legs. Children 10 to 14 years old had the highest per capita injury rate among all age groups.
Some Tips for Parents
Always use under adult supervision
Read and follow directions on the packaging
Never modify or try to make your own fireworks
Never light fireworks indoors or under a covered area
Never relight fireworks that appear to have gone out or don't ignite
light only one firework at a time
Small children should be viewing fireworks from a safe distance
Follow storage instructions if you purchase them ahead of time
Light fireworks facing wick away from your body and make sure you are not pointing it at another person
Loose hair should be tied back into a pony tail.
No loose clothing that can catch on fire
Remember sparklers are still hot even when out so put in sand and away from children
Recommendations from the U.S. Consumer Product Safety Commission
Never allow toddlers to play with or ignite fireworks: Sparklers, are not a toddler activity and are often mistakenly considered a safe firework for young children. However they burn at very high temperatures and can easily ignite clothing. The sparks that are emitted from a sparkler can cause burns to hands and exposed skin.
Older children should only be permitted to handle fireworks under close adult supervision. Do not allow any running or horseplay. Adults need to go over safety procedures before allowing an older child near any fireworks Read and follow all warnings and instructions on all fireworks.
Observe local laws concerning use of fireworks. Before using fireworks, make sure they are permitted in your state or local area. Many states and local governments prohibit or limit consumer fireworks.
Be sure other people are out of range before lighting fireworks.
Only light fireworks on a smooth, flat surface away from the house, dry leaves, and flammable materials.
Never try to relight or handle fireworks that have malfunctioned.
For more Safety Tips Visit US Consumer Product Safety Division